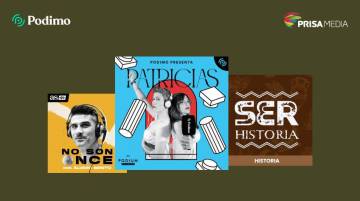 PRISA Media and Podimo, the leading entertainment audio content platform, have signed a strategic collaboration agreement with the aim of promoting the joint leadership of both companies in the podcast industry in the Spanish-speaking world. The agreement, which extends over two years, includes the development of various commercial and content initiatives aimed at this market in Spain, Latin America and the United States.
In this way, Podimo becomes one of the benchmark partners of PRISA Audio, the transversal platform that integrates all of the Group's non-linear audio content, through the development of new business models, while PRISA will contribute its content , its different brands and its competitive presence in the different markets where it operates, promoting the development of new business models in the world of podcasts.
The collaboration between the two companies includes the non-exclusive distribution by Podimo of open audio subscription content produced by PRISA Media (whose income will be split 50%), as well as the development of various exclusive productions for this platform, such as the co-production of 20 original podcasts created by Podium Studios; the creation of 20 spin-offs of the most popular programs on Cadena SER and Podium Podcast; or the co-production of new audio content with EL PAÍS, also distributed exclusively by Podimo.
In addition, the agreement contemplates the exclusive and advertising-free distribution of the open audio content of PRISA Media (Cadena SER, Podium Podcast, El PAIS, AS Audio, Caracol, ADN Chile, Los40, among others); and a subscription package between EL PAIS and Podimo to jointly reinforce the value of these services.
Finally, the organization of events aimed at promoting the development of this industry, as well as scholarship programs, is planned to promote the growth of the sector in the Spanish markets.
For Carlos Núñez, executive president of PRISA Media, "the agreement is a key step in the Group's commitment to new formats and, specifically, to the world of audio, based on permanent innovation and top-quality content. This strategic collaboration with a partner like Podimo also allows us to make significant progress in consolidating our position in a market, such as the Spanish-speaking one, where PRISA has a clear leadership vocation".
"Podimo aspires to become the leading audio entertainment app in the Spanish-speaking markets around the world (Spain, Latin America and the Hispanic US)," explains Morten Strunge, CEO of Podimo. "This strategic agreement with PRISA", he adds, "will allow us to accelerate this process through the joint creation of the best audio content in Spanish, as well as the joint development of new business models to market audio content from media conglomerates through of new sales channels. Spanish is the fourth most spoken language in the world after English, Mandarin Chinese and Hindi, spoken by more than 535 million people worldwide. Our strategic alliance with PRISA will mean that Spanish will become one of the fastest growing podcast listening languages ​​this decade."