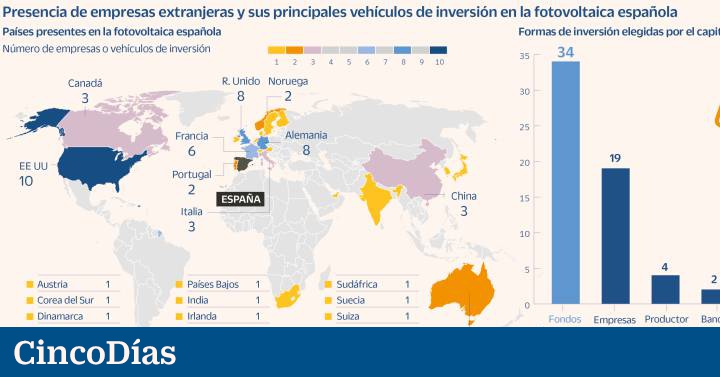 The Spanish photovoltaic market has become in recent years an extraordinary focus of attraction for the investment of foreign funds and companies. There are several reasons behind this interest.
To those already known about the many hours of sunshine and the quality of the electricity grid, two others have been added that have been key: the new regulatory framework for renewable energies established in 2018 and the clear decarbonisation objectives set forth by the Government in the Plan Integrated National Energy and Climate Program (PNIEC) approved in 2021.
José Donoso, general director of the Spanish Photovoltaic Union (Unef), highlights two others of an economic nature: "There is a lot of liquidity in the market and there are currently few sectors as attractive to invest as this one."
The sum of all has changed the sector. Pablo Corredoira, director of Haz Energia, calculates that "more than 50% of photovoltaic in Spain is now in foreign hands". Others, such as Miguel Ángel Martínez-Aroca, president of the National Association of Photovoltaic Energy Producers (Anpier), lower it "to 35% or 40%, and that is being conservative."
In Anpier they see "sadly how it continues to be sold and we advise partners not to sell, because it is an investment in the future", while Lucía Dólera, project director of the Association of Renewable Energy Companies (APPA), believes that " that interest fuels us and makes us more competitive". Donoso positively values ​​this competition and points out that "if there was little money, we would be looking for it."
This investment has been distributed throughout the value chain, although it is undergoing an evolution. If at first it focused on large plants, now it is also including self-consumption.
And although the money has been channeled in various ways, it is the funds that win by the landslide. "It is a good vehicle to put many investors, their tax treatment is better and they have a structure that allows managers to be remunerated," explains Juan Carlos Raposo, director of FTI Capital Advisors.
multinational origin
The British from Esparity Solar, the Norwegians from Statkraft and the South Koreans from the Hanwha group with Imagina Energía coincided in their foray into Spain in that year of regulatory changes that was 2018.
In Esparity they cite "the regulatory framework" as one of the reasons that decided them to come, while José Miguel Ferrer, general director of Statkraft, adds that "the approval of the PNIEC provided them with a roadmap". Santiago Chivite, general director of Imagina Energy in Spain, cites the resources of our country and focuses the interest of his group "on the construction of large plants and self-consumption".
In fact, the company's strategic plan establishes an investment of 1,500 million euros over the next ten years in both fields, highlighting the 400 million that will be dedicated to panels on roofs, both in companies and in homes.
Somewhat later, in 2019, the British Lightsource BP joined, attracted by the reasons mentioned above and also by access to commercialization. With a planned investment of 2,000 million for the next four years, its director for Spain, Fernando Roger, assures that "the activity is focused on the development, financing and construction of plants and the signing of PPAs" (energy purchase agreements long-term clean).
Also from Norway, Otovo arrived in Spain in 2020, a company with a one hundred percent focus on self-consumption, whether owned or rented. Its CEO, Íñigo Amorebieta, justifies it with an easy-to-understand simile: "We believe that what is going to happen in this decade with self-consumption is something similar to what happened with the mobile, when its penetration increased to cover everything the market". At the moment, they have already installed 10 MW to more than 3,000 families and have nearly another thousand underway.
The latest international company to arrive in Spain was Sterling & Wilson, the Indian solar energy giant. Vaibhav Joshi, the company's director of international business development, places our country "in the top 3 renewable energy markets in Europe" and wants to turn its base here into "a hub for the European and Latin American market".
And from now? Carlos Solé, partner in charge of energy and natural resources at KPMG, thinks that Spain "is in an excellent position to be a benchmark destination for new investments, due to the ambition it shows in its energy plans towards renewables, its natural resources and the capacity of the network and the electrical system in general".
Solé points out that "with technological maturity and the decrease in investment costs, photovoltaic technology competes in the electricity production market without the need for a support system that complements the prices of that market, which allows the development of the most efficient technology and with greater competition among agents".
Good prospects
There are several factors that together draw a good picture for the development of photovoltaics, both nationally and internationally. The most outstanding are the 90% cost reduction that has occurred in the last ten years. This makes it the most economically competitive and allows it to get ahead without government subsidies.
Technological evolution has also endowed it with important advantages. Its modular and easy-to-install nature accommodates both small self-consumption installations and large solar plants.
With all this, the forecasts place it as the renewable energy that is going to be installed the most, both in Spain and in the world. According to the Spanish Photovoltaic Union (Unef), the International Energy Agency "estimates it is necessary to triple the current installation levels to meet the objectives of reducing carbon dioxide emissions".
While in Spain "the installed photovoltaic power is expected to triple", going from the 13 GW currently installed to the 39 GW estimated by the PNIEC. This will mean "an investment of 15,000 million euros".
A significant increase in activity in the self-consumption sector is also expected. From the Association of Renewable Energy Companies they report that "currently there is around 2.5 GW of self-consumption in Spain and in a conservative scenario it would easily exceed 11 GW, so current development would be ahead of the most optimistic forecasts.
three examples
With this panorama, Spanish companies are preparing to continue growing in a national market with a high level of competition and where circumstances also mark their strategy.
This is the case of the company EiDF, based in Galicia. Fernando Romero, its CEO, believes that "the current situation of the energy market, with the increase in the price of electricity, and the calls for aid for photovoltaic installations charged to Next Generation funds have put self-consumption on everyone's lips.
Companies are looking for saving alternatives that allow them to reduce their energy costs and, at the same time, be sustainable and comply with the environmental aspect. This has led EiDF to have multiplied by five orders in recent months. But this works against the sector, since it shortens future forecasts".
The company focuses on self-consumption facilities for companies, generation and construction of its own photovoltaic parks and marketing. Two new self-consumption plants for the Nueva Pescanova group in Valencia have just been launched a few days ago.
Also from Galicia, Ecoener, the multinational renewable energy group, complied with its IPO plan and closed 2021 with an installed capacity of 170.4 MW, thanks to the start-up of 12 MW of wind power and 29.15 MW of 12 photovoltaic plants. In 2022 it will continue to develop its growth plans at a national and international level.
This 2022 will also be a crucial year in the history of Cepsa. In a short time it will present its new strategic plan, with which it intends to make the transition from its traditional business, hydrocarbons, to clean energy. Biofuels, green hydrogen and renewable energies such as wind and photovoltaic, with 600 MW already planned to be developed in Spain and Portugal, will be its green objective.