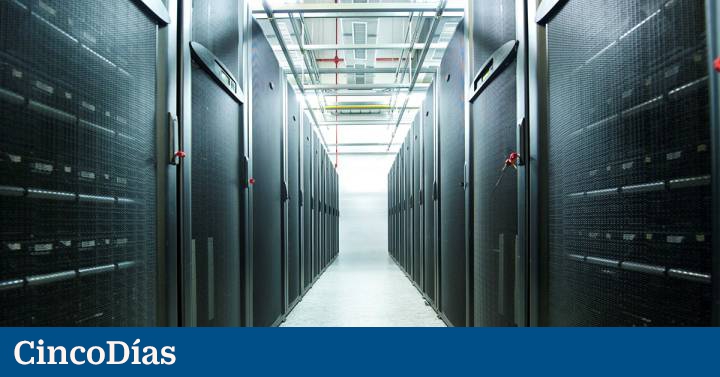 Nine national companies cloud and data centers have launched the Association of Spanish Cloud and Data Center Providers (Apecdata) to join forces and claim the role that this type of company can play to recover European digital sovereignty and not depend on US technology giants such as Amazon, Microsoft or Google, among others. All this at a time when the commercial battle for the market cloud is critical, given the important role that technologies play cloud, which support the acceleration of the digital transformation of economies and societies. And it is that if in 2020 this market cloud Europe moved 53,000 million euros, it is expected that in 2030 it will reach 560,000 million, with an average internal growth rate of over 25%, according to information handled by Euclidia (European Cloud Industrial Alliance).
"Our mission is to transmit to the market the importance of proximity and European data protection criteria in the process of digital transformation of organizations. We seek to counteract this predominance of supply cloud of American companies, asserting our position, even though we are small, with a service that is very close to the customer, with European rules, preventing technology and the incorrect use of data from going ahead of personal rights, as is already the case in other places of the planet", assures Roberto Beitia, president of Sarenet and president of the new association.
In addition to the Basque sarenetApecdata has eight more companies at its start: Gigas, Comvive, Espanix, Grupo Trevenque, Hispaweb, Idecnet, IPcore and Swhosting. Companies that do not reach 100 million euros between all of them. The association hopes that other organizations that share the same objectives and concerns will join. "We do not expect some to join, with large data center, because they have agreements with some of the American technological giants", continues Beitia. The director does not give names, but it is easy to think that one of these companies is Telefónica, which has recently sealed agreements with microsoft, Google and Oracle for them to use their infrastructures in Spain to launch their regions cloud in the country.
Apecdata's partners recognize that the battle they are undertaking is very complex, because the giants of the cloud Americans and Chinese (Alibaba is also strong in this market) have a technological offer that is difficult to match. "We are David against Goliath, but we are used to fighting with giants and here we continue. And what we seek is to protect the European industry, that they do not sweep us away and that the dependency on non-European suppliers is not total; that there is a local and European alternative". From the association they defend that the offer of national providers, based on open software, covers much of the current demand, and they underline "the proximity and quality of service" as an added value of their market proposals.
For this reason, they add that the work of the association "is to make people and organizations aware of data privacy, since the current moment is vital for defining the rules on which you want to play when trusting data. data to a third party. The association is currently turning its activity in the legal field to demonstrate to the market the importance of working in a reliable data perimeter when it comes to bringing business applications, or data, to the cloud. "The issue is especially important when it comes to organizations handling sensitive data such as health services or local administrations, among others, although the criteria that are intended to be disseminated for data governance are applicable to any type of organization and any type of data, whether business or personal", they emphasize.
Same goals as Gaia-X
Apecdata fully agrees with the goals of Gaia-X, a European non-profit organization launched in 2019 that seeks sustainable technological sovereignty in the cloud that supposes a safe alternative in the market and grants capacity of access control and reuse for those who produce their data.
"Our objective, like that of Gaia-X, is ensure data availability, interoperability, portability and that companies comply with European standards and values. It is, in short, that the data generated in Europe stays on the continent, is governed by EU laws and does not depend on foreign multinationals that use it to generate a profit that later does not revert to the coffers themselves. European", they continue from the new Spanish association.
As highlighted by Apecdata, the data is at the epicenter of any digital infrastructure that seeks to establish itself and be competitive in the great transformations that digital technologies are causing in today's world. According to data from the European Data Market Study, it is estimated that by 2025, the data economy in Spain could reach 54.4 billion euros and represent 4.1% of the national GDP, "as long as an adequate legal, political and financing environment is created."
But Beitia insists that they want to "sensitize customers to the importance of having local suppliers that 100% respect data protection rules. People are not aware of the dangers they are running into by hiring suppliers from outside Europe. They look at technical issues, but they do not repair issues of information leakage or non-compliance with some requirements related to privacy. There is a lot of unknowing", she explains while remembering how the EU Court of Justice ruled in July 2020 against the sealed agreement for the transfer of data from European citizens to the US negotiated by the European Commission with Washington in 2016known as Privacy Shield o Privacy Shield, concluding that it does not guarantee the level of data protection required by the rules of the European Union.
In its ruling, the European justice warned that it did not find in the agreement limitations on the use of data in the framework of certain surveillance programs, nor that it found sufficient guarantees to protect non-US citizens and prevent them from being the object of such programs.
From Apecdata they will look for ways of collaboration between the associates from an operational point of view, such as the energy purchase (a very important element in the sector of the cloud and data center), the exchange of technical solutions and promotion of cloud federated, "because the trend now is to have the services in more than one center to guarantee redundancy and reliability", he says.
Without an Airbus of the cloud
The Spanish association agrees with Euclidia that, as the latter points out, "despite not having an Airbus of the cloud nor providers equivalent to large technology companies in terms of size or capitalization, "the European ecosystem cloud, made up of several hundred companies, is perfectly capable of satisfying most of the key needs of the market, whether in relation to performance, price, security or data protection. This ecosystem even has an advantage when it comes to targeting natives cloudor in relation to virtualized 5G".
They also share another idea and that is that the giants of the cloud American and Chinese hold questionable competition because they have benefited from generous (and enviable) public support American or Chinese government. For example, a July 2018 McKinsey report found that in China, 64% of public cloud spending was channeled to service providers. cloud Chinese. "Meanwhile, in Europe, EU actors are not being offered any kind of privileged access to European public procurement, as nothing resembling a Buy european tech act", they point out from Euclidia. Beitia assures, for her part, that one of the objectives of the Spanish association is to claim this type of support from national and regional public administrations. "If the European justice has already said that the protection provided by the US regulation is not sufficient, the administrations' specifications should consider this issue and support the technology of local and European providers".
Another point that Euclidia and Apecdata criticize has to do with the "free allocation of credits cloud, which is a massive source of distortion of the conditions of competition", explains to CincoDías Yann Lechelle, CEO of Scaleway, one of the European companies that is part of Euclidia. This points out that every year, in Europe, service providers cloud leaders distribute billions of euros to startups, SMEs, developers, universities or students, which contributes (…) to creating a progressive but practically irreversible dependency for the recipients (…) It is a radical destroyer of competition. This perfectly characterizes the behavior of a gatekeeper", adds Lechelle.
From Apecdata they say they also suffer this type of practice in Spain, "and it is something very serious, because the technological giants know that this is a very good way to attract customers; they do not mind sowing (giving some solutions and services for free) to retain them for the future, because they know that once they get used to working with them and, as time goes by, it is too late to change, because the disorder that believe them is so big that it is not worth it". Beitia says that in the Basque Country there is a public program to promote digitization among nascent technology companies and to do so they have reached an agreement with Amazon Web Services that offers them free space on their website. cloud. "If it's about promoting the digitization of local companies, let it be with technology providers that pay their taxes locally," says Beitia.
In Europe, a recent study by the research group Synergy revealed that, in the last four years (2017-2021), the market share of European service providers cloud it fell from 27% to well under 16%. Amazon, Microsoft and Google today represent around 70% of the market share and it is still rising. The largest technology provider cloud in Europe it is Deutsche Telekom, with 2%. "It is clear that the market is biased and unbalanced", agree both associations.