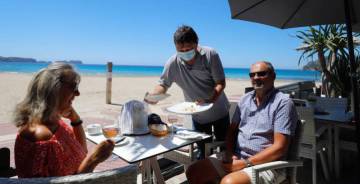 New setback for tourism. The Executive will restrict the arrival of travelers from the United Kingdom, the main source market for tourists to Spain, with 21% of arrivals. As of December 1, only those who have a vaccination certificate will be able to enter Spain, according to a provision of the Ministry of the Interior made public this morning in the Official State Gazette. Until now, entry was allowed to those vaccinated, those who gave a negative PCR or those who demonstrated that they had already passed the disease. "The appearance of new variants of the agent causing the disease at this time forces to increase travel restrictions "emphasizes the order.
And the destination most affected by this measure is the Canary Islands, in the middle of the high season and in which British tourism plays a fundamental role. The latest data from the British Government emphasize that there are currently 38.7 million Britons vaccinated with double regimen, just 69.7% of the population, with what from December 1 there will be 28 million citizens of the United Kingdom who are prohibited from entering Spain.
Restrictions for arrivals from South Africa
The appearance of the Omicron variant has also forced the Executive to tighten the entry requirements for travelers from South Africa (Botswana, Swaziland, Lesotho, Mozambique, Namibia, South Africa and Zimbabwe), who will require a negative test carried out no later than 72 hours before admission regardless of whether they are vaccinated. This is stated in a general arrangement in a order of the Ministry of Health, also published in the BOE, in which the new requirements are justified because "the new omnicron variant detected in South Africa that presents numerous mutations related to a possible increase in transmissibility and a decrease in the neutralization capacity of the antibodies".