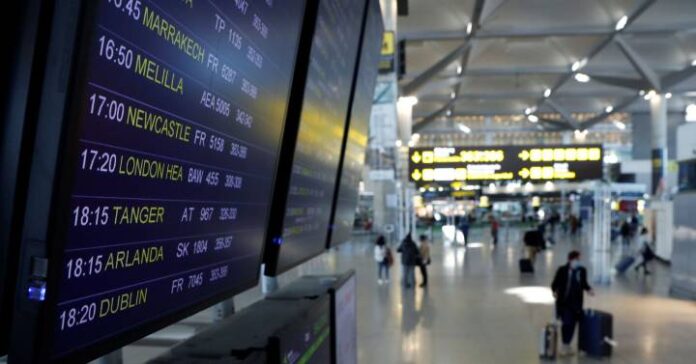 The Government of Spain has decided, in coordination with Portugal and in the absence of a common position of the European Union, "the suspension of incoming flights from the United Kingdom from tomorrow, except for Spanish citizens or residents." "Border control will also be reinforced in Gibraltar," they report from La Moncloa, after the detection in the United Kingdom and on the Rock of a new strain of Covid-19.
Moncloa reports that Spain's decision has been adopted in concert with Portugal and will also entail a "tightening of controls at the Gibraltar border crossing."
The President of the Government, Pedro Sánchez, has held a conversation about these common decisions with his Portuguese counterpart, Antonio Costa, after the meeting of the European Union crisis mechanism, which today analyzed the effects of the new strain of coronavirus detected in the Kingdom Kingdom and has called for non-essential travel to be avoided.
The Government recalls that, in order to enter Spain, it is mandatory that all passengers from countries or areas at risk undergo a Diagnostic Test for Active Infection, PDIA, for SARS-Cov-2 in the seventy-two hours prior to arrival. with negative result.
The internal borders of the Schengen area remain open
On the other hand, the countries of the European Union (EU) agreed to keep the internal borders of the Schengen area open after several member states suspended their connections with the United Kingdom due to the new strain of decoronavirus identified in that country.
"Given the experience of the beginning of the pandemic, Member States … stressed the importance of keeping the borders open within the Schengen area," the EU Council reported.
Technical advisers from the 27 EU countries held an urgent meeting of the IPCR (Integrated Political Response to Crisis) crisis mechanism on Monday morning that lasted for three hours.