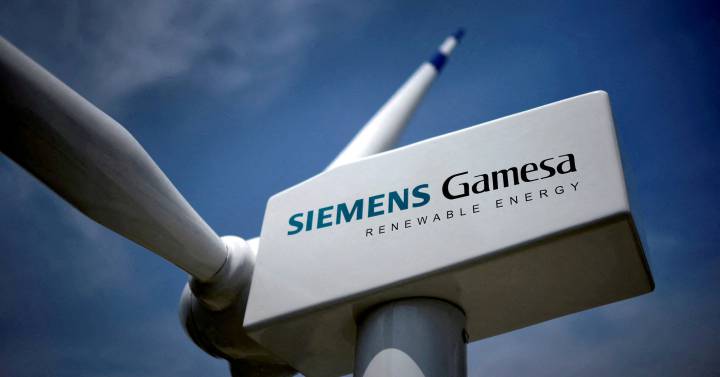 Siemens Gamesa (SG) foresees an adjustment phase until 2025, when it will activate a new investment cycle, according to a presentation published in the CNMV by the wind company, immersed in the delisting bid launched by its majority shareholder Siemens Energy.
According to said presentation, made by the CEO of SG, Jochen Eickholt, the management team plans to focus on the short term, between now and 2025, to mitigate the challenges and headwinds facing the wind turbine manufacturer. The group expects to consolidate its profitability as of that year, investing in the growth of offshore wind power and overcoming the problems of the onshore division. The boost to the services division, the one that leaves more margin, will be another of the keys.
The new program, called Mistral, will immediately attack Siemens Gamesa's problems with the supply chain and with the 5.X wind turbine model, whose delays in commercial launch have resulted in an extra cost of 1,000 million, according to calculations by Credit Swiss. SG has also detected, says Eickholt in his report, an excess of complexity by offering a too broad portfolio of products, as well as high costs derived from the low utilization of production capacity.
Likewise, the company has highlighted the fall in prices, derived from the growing competition. The average price of a megawatt of terrestrial generation has fallen from 800,000 euros in 2017 to 670,000 euros in 2021, although the CEO of SG foresees a rebound this year to reach 770,000 euros. Likewise, he has detailed the impact of the rise in prices on margins. Steel has become 2.5 times more expensive (it represents 58% of the material cost) and energy and logistics tariffs have increased fivefold.
For its part, Siemens Energy has carried out another presentation to analysts, within its Investor Day. The company has indicated its plans to simplify the management structure. It plans to reduce management levels from eleven to six, which will mean eliminating about 30% of management positions. The German group maintains that the purchase of Siemens Gamesa will be closed during the second half of the current year.
Siemens Gamesa shares are trading little changed, around 17.8 euros per share, just 1% away from the price of 18.05 euros offered by Siemens Energy in the delisting bid.
Within its Mistral Plan, SG plans to share logistics costs with Siemens Energy and reach long-term agreements with suppliers. In the contracts with the clients, it will establish a clause to transfer the increases in energy and raw materials to them. This gap in the contracts was one of the causes that caused losses of more than 2,200 million in the last two and a half years.
SG will also select projects based on profitability levels and not revenue volume.