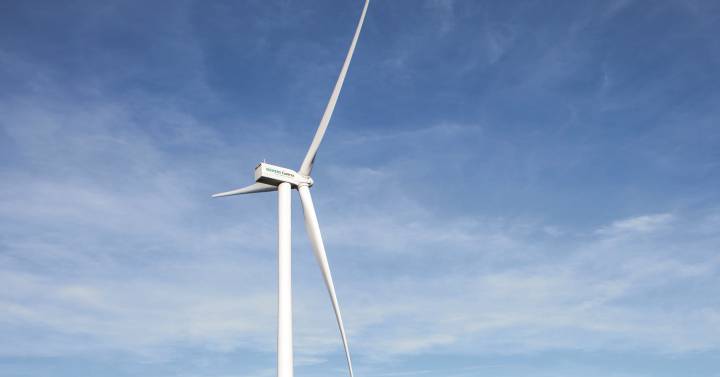 Siemens Gamesa (SG) lost 627 million in 2021, a "complex year" for the wind turbine manufacturer, which ends the year on October 1. The renewable group reduced its Red numbers, although negative triple-digit results continue to weigh on its bottom line.
On the positive side, the Siemens Energy subsidiary posted an order book of 32,542 million as of September 30, after an increase of 7.6%. With the upward projection of the wind business, on account of the decarbonisation of the economy, the large manufacturers of wind turbines, such as SG itself, Vestas and GE, in addition to the Chinese Envision and Xinjiang, are not able to realize these expectations.
The company, whose CEO is Andreas Nauen, does foresee an improvement in margins for 2020. With the estimate that the Ebit (net operating profit) will once again be positive and will represent between 1% and 4% of consolidated sales , which in 2021 exceeded 10,100 million, 7.5% more.
SG justifies its losses in 2021, when Nauen expected to return to profits, because costs have skyrocketed. Not only those derived from the supply chain, which affect the entire industry, but also due to the additional investments for the commissioning of the new 5.X turbine. Commodity inflation has also worked against it.
The turbine producer believes that this negative scenario will continue over the next year. The divisions that have contributed profitability have been offshore wind and services, which is the one that leaves the most margin. In the first, the next few years will open numerous auctions in different countries for the award of new generation off shore.
Andreas Nauen has stated that "we operate in a difficult environment, with difficult market dynamics in the short term and no visibility on when the problems in the supply chain will normalize. SG closes its balance sheet for 2021 with a Net Financial Debt of 207 million, four times as many as a year ago, it has available credit lines amounting to 4,443 million, of which it has drawn 1,346 million.
Part of SG's expectations are in the effective decisions made at the Glasgow world summit against climate change, which would benefit its wind business.
In any case and with the current scenario, for 2022 he expects a decrease in sales between 2% and 7%. In the medium term, it maintains its objective of consolidating an Ebit margin of 8% to 10%. I would get it in 2024 or 2025