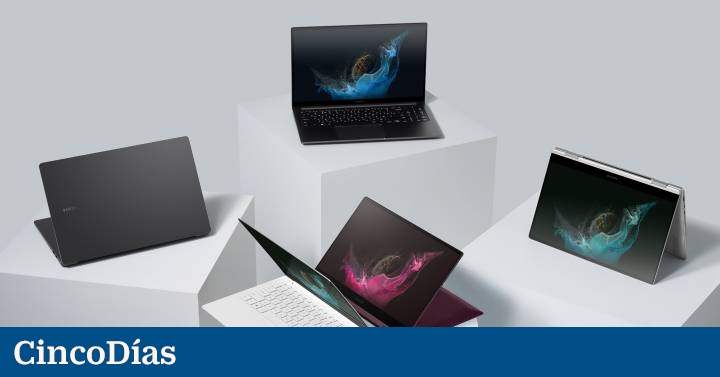 Samsung announced today within the framework of the Mobile World Congress in Barcelona that it is once again selling Windows PCs in Spain. He will do it seven years later, because it was in September 2014 when he left this business in Europe. Although the South Korean giant He even announced in April 2021 that he was resuming activity and launched three laptops in the Old Continent to take advantage of the boom of this device with the pandemic, they were never sold in Spain.
The company is only selling some Chromebooks in the country, with Google's Chrome operating system, for the educational sector. But, the multinational does not want to overlook the enormous market opportunity, because according to Canalys in 2021 and thanks to the promotion of teleworking by Covid-19, 341 million PCs were sold worldwide, 15% more than in 2020 and 27% more than in 2019, which made 2021 the best year for the sector since 2012. In addition, the laptop segment was the one that grew the most, 16% compared to 2020.
In this context, Samsung has revealed this Sunday that it will launch its new series of Galaxy Book2 Pro laptops in April, with two models: the convertible Galaxy Book2 Pro 360, with a stylus (S Pen), which can be used as a tablet, and the Galaxy Book2 Pro with 5G. Both are ultralight (from 870 grams to 1.4 kilos) and very thin (between 11.2 and 13.2 mm thick) to be able to work with them from wherever you want. The company has not disclosed prices in euros, but in dollars. The first will cost $1,250 and the second $1,050.
David Weston, director of Enterprise Security and Operating System at Microsoft, noted that "these are the first consumer computers with the Microsoft Secure Core Computer designation." That is, they use hardware and software components to isolate memory and critical components and prevent attacks and unauthorized access to critical parts of the operating system. "They offer the user the same security protections they get in the office and when working remotely," he added.
Also capitalizing on the rise of video calls, the new laptops feature Full HD 1080p webcams and include new features such as auto-framing to keep users perfectly focused even when they're on the move. The equipment, with a double microphone and dual speakers with AKG technology and Dolby Atmos support, also cancels background noise and allows filters to be put on the face to "remove dark circles or put on makeup" to improve the appearance of users.
Samsung stressed that the new computers are better integrated with its Galaxy phones to strengthen the company's product ecosystem, although some use Android and others Windows. Thus, through Single Sign-On with Samsung Account, it will be enough to enter the username and password once to have access to mobile applications and content, including Gallery and Samsung Notes, as well as pairing the Galaxy Buds headphones.
Likewise, users will be able to link their smartphones Galaxy with your Samsung Windows computer and check mobile status by swiping up on the Windows 11 taskbar and even select your most recently used apps to use right on your desktops.
The Private Share feature will also make it very easy to share sensitive work documents with colleagues, according to the company. "The user will be able to create timed links with greater security options based on technology blockchainsuch as view-only access, disabling screenshot capabilities while viewing, and revoking full access, so that users retain full control of their files even after they're shared," they said. And you can use Quick Share to send large files with the new Link Sharing option, which generates an easily compatible link that recipients can access to share content from the PC to other devices.
The new laptops have an Amoled screen to offer good viewing quality and have a battery that lasts up to 21 hours, according to Samsung, which indicated that, thanks to a fast charge of 65 W, they can reach 8 extra hours of autonomy with half an hour of load. The processor of both laptops is Intel of the twelfth generation, with i5 or i7 configurations, depending on the model. Both models are available in 13.3 and 15.6 inches, with up to 32GB of RAM and 1TB of storage. They all have Windows 11. As for connectivity, they support Wi-Fi 6E networks (and Bluetooth 5.1) and there is a model with a 5G option.