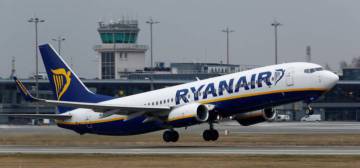 Ryanair confirmed on Tuesday that it will restrict the voting rights of British shareholders from January 1, in an attempt to ensure it remains majority-owned by the EU and retains all license rights in the Union. European regulations do not allow airlines whose capital is mainly foreign to fly between two points in the EU.
Thus, an American airline can fly from Paris to New York, but not from Paris to Madrid or Barcelona to Tenerife, a restriction that threatens firms such as Ryanair, Easyjet or IAG, with a broad base of British investors that can push back the percentage of European capital below 50%. During the post-Brexit transition year this rule has not been applied. As of January 1, however, the capital based in the United Kingdom no longer computes, putting its character as a European airline at risk.
Ryanair's plan to restrict the vote of British shareholders was approved by the airline last year, subject to the terms of an agreement between the UK and the EU on the future business relationship. The agreement, signed on Christmas Eve, maintains the ban on flying to airlines with a foreign majority, although it opens the door to a liberalization of these conditions in the next year.
"Notices will be issued to the registered holders of each Restricted Share in due course, specifying that the holder or holders of such shares will not have the right to attend, speak or vote at any shareholders' meeting," Ryanair said in a statement. "These resolutions will remain in effect as long as the council considers that there is any risk to airline licenses arising from ownership or control."
Ryanair said last February that although the airline was 55% owned by EU investors, UK-based shareholders controlled about 20% of its shares. CFO Neil Sorahan said at the time that he expected half of them to be domiciled in the EU in the event of a hard Brexit.
In a similar position to Ryanair are Iberia or Vueling, IAG subsidiaries which, in turn, have a significant share of British investors, also owning British Airways. In any case, 100% of the political rights in Iberia are in the hands of El Corte Inglés through the Garanair company. IAG also limited the capital in the hands of non-EU investors to 47.5%, a veto that was later lifted.
These safeguards may be unnecessary should the EU and the UK lift the cross bans in the next year. "The parties agree to examine […] the options for the reciprocal liberalization of the ownership and control of its airlines within a period of 12 months from the entry into force of this agreement ", reads the post-Brexit pact. Pedro Sánchez said on the 11th that "there would be no problem for Iberia to operate in European airspace after the United Kingdom left the EU" because "the problem has been solved."