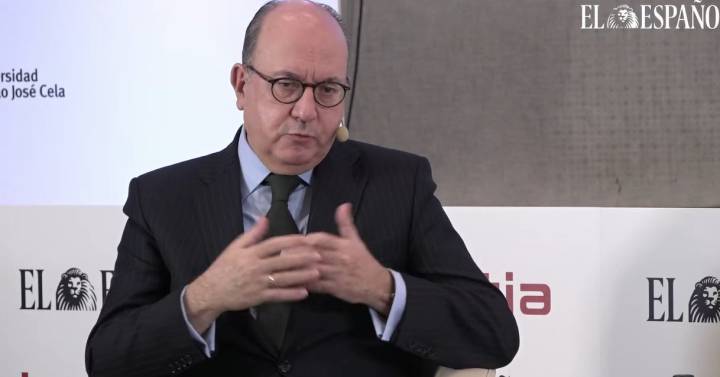 The president of the Spanish Banking Association (AEB), José María Roldán, recalled that the Spanish banks put money into the creation of the Management Company for Assets Proceeding from Bank Restructuring (Sareb) that they have lost and that has allowed reduce losses for taxpayers and, although he does not expect thanks from the sector for this, he has asked to "close now" a chapter that began a decade ago.
This was stated during his speech at the 2nd Financial Observatory organized by 'El Español' and 'Invertia', in which he reflected on the impact that Sareb may have had on the reputation of the Spanish banking sector.
"We really need to explain things better. Sareb, what we call the 'bad bank', is neither a bank nor is it necessarily a bad one, because it has real estate assets behind it. The type of asset management company that was launched is a basic instrument in the management of financial crises of entities in which there is a very powerful real estate component, and in all the countries where there has been this type of problem, this option has been chosen", he assured.
Roldán recalled that the AEB banks did not transfer their assets to Sareb, but even so they put capital into their constitution to assume possible fluctuations in the value of the assets that were transferred to the company, at a price that at that time was considered "of market".
As stated, Sareb's debt was already guaranteed by the State and formed part of its contingent risks, although it was not integrated into the public sector because it had assets that had value and a mostly private capital structure. However, over time, the evolution of the market has led to the decrease in the volume of Sareb's assets being accompanied by losses that have caused these banks to lose the money they contributed, explained Roldán.
"I am not going to explain that they thank me for having put money that has minimized the losses for the taxpayer, but to say that it is a problem of prestige when you have put capital on assets that were not yours, you have not transferred assets and you have absorbed the losses that otherwise would have gone to the public sector… Let's close this chapter now," he asked.
ALEJANDRA KINDELAN, SUCCESSOR
During his speech, José María Roldán took the opportunity to congratulate the candidate to succeed him as president of the banking employers' association, Alejandra Kindelán. "I think she is going to be a magnificent president, I have known her for many years and I am sure that the election has been magnificent," he stressed.
Roldán also sees "magnificent news" that his successor is a woman and has recalled that Spain is more advanced in this regard than other countries, since it has a woman at the head of the largest bank in the country and in the euro zone (Santander) and the CEO of one
of the "most profitable and solid" Spanish banks (Bankinter) is also a woman. "I think that little by little that kind of glass ceiling is breaking (…). It is magnificent news and we have to feel proud as a country that we are always a little ahead," she pointed out.
Asked about the possible merger between the financial employers AEB and CECA, Roldán has ruled out that this phenomenon will occur in the short term with a newly appointed president, although he has recalled that he announced his departure so far in advance to allow precisely that reflection.
As he has indicated, there are reasons to think that the merger of AEB and CECA would be positive, as both have the same commercial banking model, the same challenges and entities of a similar size, but he has also recognized that both have a different culture.
Thus, the CECA entities are the old savings banks, in which the banking foundations continue to have a high weight "even when they are on the market". "Maybe it makes sense to continue separately and collaborate as we do, because cultures
they are different and we come from very different points in time, so now it's time to be a little more cautious and let the following take care of reflecting on this", he pointed out.