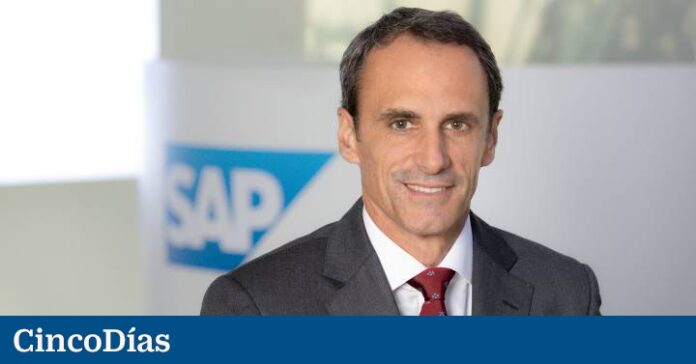 The forecast reduction caused a severe setback in SAP on the stock market on October 26. Its stock sank 22% and marked lows since the beginning of 2019. The event occurred after its CEO, Christian Klein, announced that its revenue and operating profit targets set for 2023 were being pushed back by two years. The reason? increased demand from many customers to versions cloud of their software, which are less profitable in the short term, and because of the investments they plan to make to facilitate it.
Since then, the company has managed to gain 20% on the stock market, but it is still one of the 10 worst Dax values ​​in the year with a decrease of more than 10%. Despite this scenario, Rafael Brugnini, general director of SAP Spain, applauds the decision of its CEO. "It was a very brave move. He has decided not to be held hostage by the markets, to postpone the promise he made to the market for two years, but to remain faithful to his customers and his employees, to further accelerate the transition to cloud and not make massive layoffs ".
According to Brugnini, what they have done is a "show of sincerity" in recognizing that for many years they have been making many acquisitions and "we must improve in the integrations, and that requires time and significant investments that we are making." "The measure also allows us to make changes in the organization to be a simpler company to deal with and more focused on the customer," continues the executive, who highlights, even with everything, the growth already experienced by SAP in the business cloud: "In 2009 we had a turnover of 100 million and in 2019 it was 7,000 million. We are second in the world when it comes to business cloud, with more than 100 solutions and more than 230 million subscribers ".
The objective that the company has set with its new strategy of accelerating the delivery of solutions cloud is to reach 22,000 million euros of cloud revenue in 2025.
Brugnini ensures that SAP is fighting in the strategic market cloud, despite the fact that there are rivals like Salesforce that are growing faster. The executive defends that "there is no other company in the market with as much variety of solutions as SAP. We compete in every area where there are niche rivals, but none offer a solution end to end like us, something that is key at a time when companies are accelerating their digital transformation, since it is essential to make a connection end to end of business processes ".
SAP is in a transition that seeks to accelerate the step towards the 'cloud' of its customers
Despite this, the manager reiterates that where they must improve is in the integration of all these solutions, "because when you come from a frenzied pace of acquisitions, those integrations are sometimes not as perfect as they should be." But he details that SAP's strategy regarding integration goes beyond technology integration, since what it seeks is to offer complete business processes to customers, regardless of the technology behind it, and this year, Brugnini says , they will close with 90% of the integrated business processes.
"I have no doubt that we are prepared to compete with any rival. We will grow at the rate imposed by the market in cloud with the help of the ecosystem and the more than 15,000 people we have implementing SAP solutions in Spain ", he remarks.
Although analysts forecast average annual revenue growth for SAP of 6% in the next three years compared to 18% for Salesforce and Workday, the executive clarifies that those figures do not speak only of cloud. "SAP is in a transition; billed 25,000 million euros last year and 7,000 were cloud. And what is going to happen is that we are going to increase the growth of the cloud while other areas will decrease, so that if we take only that business we will be in line with them ".
Brugnini is confident in the success of SAP, as he assures that many companies today have a "zoo of different solutions with tremendous integration problems. That is why our offer is so important end to endAlthough this does not mean that companies should replace everything they have to implement all of our products. We have solutions for big data and the cloud platform that allow pre-integrations with third parties and have a homogenized data model ".
Regarding the SAP Spain business, Brugnini assures that they will close a good year, despite the pandemic. Although he admits that it has been hard and that "to do the same business" they have had to "work much more". The manager explains that there have been sectors such as hospitality and tourism very affected "where we are not doing the same business", but there are others "where we are doing very well." Either because they are sectors that are growing with the health crisis or because they are taking advantage of the situation to prepare for the future. For Brugnini, if there is something that the pandemic has helped to put at a top priority level, it is everything that has to do with digital transformation, "something that in some companies was being questioned, and not now."
SAP, with 8,000 customers in Spain, has focused during the pandemic on helping companies better serve "a new customer who demands new experiences through electronic commerce and where we have a great offer thanks to the purchases we have made as Qualtrics ", a subsidiary valued at 12,000 million, of which yesterday they announced that they will take a minority stake on the stock market.
"In order to understand the penetration of our e-commerce solution, if we put together all the companies that use SAP Commerce, we are talking about a total volume of gross merchandise transacting more than 520,000 million dollars, well above that of Amazon: 335,000 million dollars in 2019 ", says the manager.
The other two areas where they have focused the most during the pandemic have been to strengthen the supply chain to avoid stock breakages and the reconversion of the workforce, "not only to guarantee teleworking and employee safety, but to to help with the education of these so that they adapt to the new technologies before a greater automation of certain processes ". The CEO of SAP Spain highlights that the SAP SuccessFactors human capital management solution has 164 million users.
Brugnini recalls SAP's commitment to the intelligent company, "which is none other than one that is capable of listening, understanding and acting in each part of the business to make the right decisions, and for this it connects everything that comes from ecommerce and marketing with operations (backend), applying artificial intelligence tools, robotization, etc ".
The pandemic has helped prioritize digital transformation. Some companies questioned it, but today none do
The manager points out that the pandemic has opened up other business opportunities. "We see that consumers begin to select companies not only thinking about the quality of the product but also about their commitment to society and the environment. Sustainability and the ecological transition are present in almost all strategies and boards of directors, and we have launched solutions to measure the carbon footprint of each service and solution that is sold ".
Also this area of ​​sustainability will be key in B2B to choose suppliers and they are including it in all their supply chain solutions. "So that companies can promote themselves in our Ariba network, with more than 5 million companies participating and moving 3.75 billion dollars annually," he says.
Brugnini has great confidence in the Plan Digital Agenda 2020-2025 of the Government of Pedro Sánchez. "It is an opportunity to take the country to the next level of digitization, and there SAP has a lot to say because we have many solutions dedicated to the public sector, one of our strong verticals." The company is already collaborating with the Madrid City Council to bring all its tax solutions to the new versions of SAP to the cloud.
The manager points out, in this context, that public-private collaboration and the distribution of the European funds that are going to come in the next five years, which are around 140,000 million, will be key. "They will have to be assigned to those projects that will have a greater impact on society and that will allow SMEs to evolve, which are those that are experiencing a more difficult time and are more behind schedule from the point of view of digitization."
According to Brugnini, the role that SAP can play in this is key and they already have a proposal. "We are the largest European technology company and we are already collaborating in other countries. In Germany, we created with T-Systems a app tracking for Covid-19, which is working very well. And we just announced a collaboration center to help countries and organizations distribute vaccines, with all the know-how we have from logistics solutions. "
Among the SAP clients in Spain mentioned by Brugnini are the DIA Group, which has used its digital commerce solution during the worst months of the pandemic "to act with more flexibility and speed in its ecommerce strategy", and Flex, which has carried out a digitization process with SAP Commerce. The company has adapted the platform to the particular flows and processes of its more than 2,000 clients. Neolith, a Castellón company specialized in synthesized stone, has also chosen SAP S / 4 HANA as the nucleus of a digitization with which it seeks to promote its internationalization and growth.