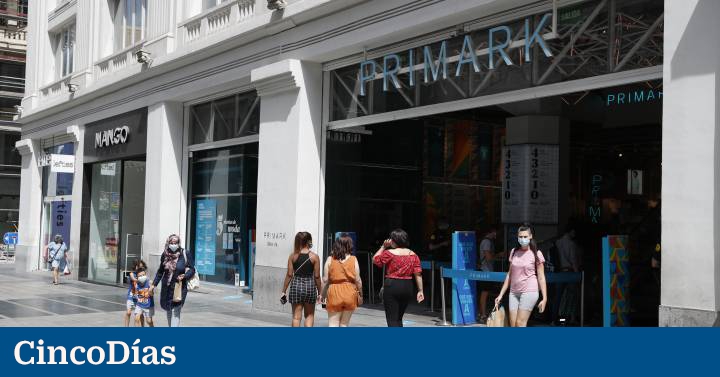 Primark Stores, the company that manages the fifty establishments that the Irish distribution company has in Spain, registered a net profit of 70 million euros at the end of its fiscal year 2021, closed in August of that year. A result that represents an improvement of 45% compared to the previous year, in the impacts of the pandemic made a dent in profitability, thanks to lower operating costs.
These also continued to be felt during the following financial year, affecting the recovery of Primark Stores' revenues. Its annual accounts, deposited in the Mercantile Registry, reflect a turnover of 1,127 million, 2.5% less than in 2020, the year in which the Covid-19 caused a cut in income of 24% on the previous figures to the pandemic.
However, the main reason for the drop in turnover in the last financial year was the lower sales made to its Irish parent company, which fell by 22%. Pure sales in Spain, through the store, grew by 15% to 970.4 million, although still far from pre-pandemic levels.
"The increase due to the effect of the new openings has been reduced by the partial closures of some stores and restrictions in all of them motivated by the Covid-19 pandemic," says the company in its management report.
On the health crisis, Primark Stores explains that "many lessons have been learned and we have developed a flexible set of possible responses that are ready to be implemented in the event that further restrictions are imposed, whether at the local, regional or national level". It concludes that the Covid-19 will have "a minimal impact" thanks to the fact that its parent company "has agreed to provide the necessary financial support so that the company can meet its obligations."
At the end of last year, Primark had 52 stores in Spain, four more than in August 2020, after opening in Sant Cugat (Barcelona), León, Bilbao and Marbella. To these have been added, already in the 2022 financial year, three more in Vigo, Girona and Cádiz, with Spain being the country where the most establishments have opened so far this year.
At a global level, the fashion chain announced a few weeks ago that it will implement "selective" price increases in part of the offer for the autumn-winter campaign, and that they will begin to be noticeable to consumers at the end of July and the beginning of August.