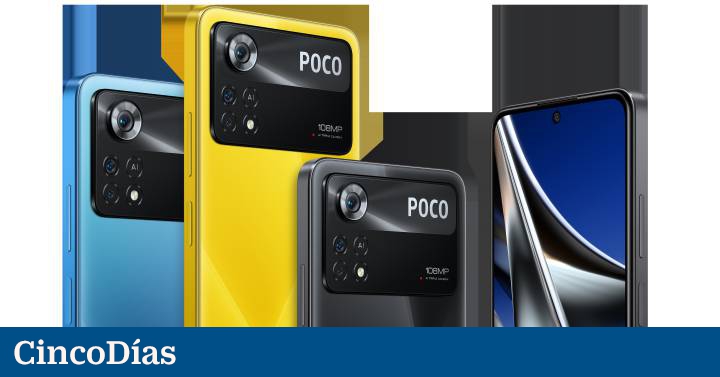 POCO, the Xiaomi brand that is aimed at an audience between 18 and 35 years old with a very techie, continues to gain ground globally; also in Spain. After closing 2021 with a total of 23 million units sold, an important figure considering that the company is not yet in many countries, the Chinese manufacturer has presented at the Mobile World Congress two new smartphones that follow the original philosophy of the company: "Offer the maximum possible technology at a moderate and balanced price".
It is the first time that POCO is present at the Barcelona fair with its own stand under its brand (before it was with Xiaomi). And its bet is the new X4 Pro 5G terminals and, its younger brother, M4 Pro. Two powerful terminals located in the segment between 200 and 350 euros, vital for POCO and Xiaomi itself.
The top model, and therefore the company's flagship, includes a 6.67-inch Amoled screen with a refresh rate of 120 HZ and a response rate of 360 Hz, which means that the phone responds to every movement in the blink of an eye, something key if you play with the terminal. "We are the first in this price range to offer it," they say. The screen has an FHD+ resolution of 2400×1080.
As for the camera, the terminal has a powerful 108 MP sensor, with technology imported from Xiaomi's high-end. It also comes with an 8 MP ultra wide lens, a 2 MP micro camera on the rear, and a 16 MP sensor on the front. The mobile offers selfie panorama, slow motion, dual video or kaleidoscope to bring any recording to life.
The new smartphone has a Snapdragon 695 5G processor with 6 nanometer technology, which provides more speed and efficiency compared to the company's X3 Pro model. The device's battery is 5,000 mAh and is accompanied by 67 W fast charging technology, which allows 30% of it to be charged in 8 minutes and 100% in 41 minutes.
"With POCO X4 Pro 5G we definitely set the industry standard for this segment," said Kevin Qiu, head of global POCO, who assures "it is a very competitive terminal." The terminal, with glass finishes that give it a premium touch and is 8 millimeters thick, will go on sale on March 7. Its price will be 299 euros or 349 euros, depending on whether the model is 6 GB plus 128 GB of storage, or 8 GB + 256 GB. Both will have a promotional discount until March 9. They will be available in black, blue and yellow.
The most modest model also includes an Amoled screen, but at 90 Hz, a 64 MP high-resolution main camera, a MediaTek Helio G96 processor and a 33W fast charge. This terminal will arrive earlier, on March 2, and its price will be 219 and 269 euros, depending on the configuration. There will also be a promotional offer.
POCO has defended in the Mobile that its sales and its product portfolio already place it as an important player in the sector. The brand, which has had its own sales and marketing teams since last year -although it takes advantage of the synergies of belonging to Xiaomi (with which it shares manufacturing and after-sales service)-, is already present in more than 35 markets, and plans to land in new countries in Europe.