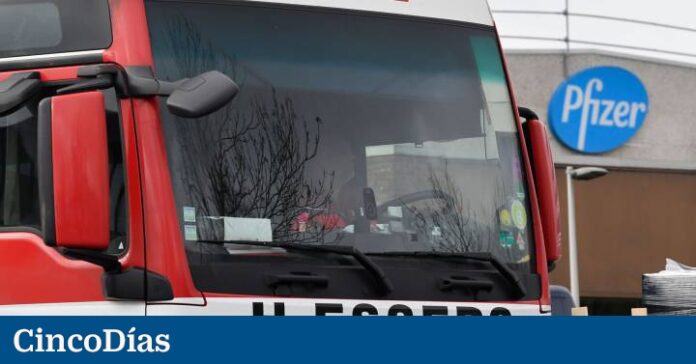 The German pharmaceutical BioNTech and the American Pfizer will supply 12.5 million doses of its vaccine against Covid-19 to the EU before the end of the year, the German company reported yesterday at a press conference. The vaccine baptized as Comirnaty was authorized this Monday by the EU and it is expected that, once the national supervisors give the green light, it will begin to be applied on the 27th in all the states of the Union. With two injections per person, deliveries to the EU would be enough to vaccinate 6.25 million European citizens. These two associated companies expect to begin delivery within five days.
Within the joint purchases organized by the EU Each country receives a number of vials proportional to its population. In the case of Spain, it is around 10.5%, so if the proportion is met, it will receive 1.31 million doses this year. With this first shipment, the autonomous communities will be able to immunize around 650,000 people from the first groups to be injected: first-line social health personnel, large dependents and elderly from nursing homes.
BioNTech also recalled that it plans to increase Comirnaty's production rate when its new plant in Marburg, Germany is up and running. This facility, which it bought from Novartis in September, would have an annual production capacity of up to 750 million doses. At the moment, Pfizer is the company that bears the burden of production. Specifically, from Puurs (Belgium) it finishes the product and distributes it throughout Europe.
In addition, from BioNTech they assured that they would be in a position to launch a new version in case the SARS-CoV-2 virus mutates in a short period of six weeks, thanks to the technology used, known as messenger RNA, which instead of inoculating the patient with attenuated viruses or virus fragments, injects genetic "instructions" for human cells to generate virus proteins against which to develop antibodies. However, the efficacy of the current vaccine against the variant detected in the United Kingdom must first be confirmed, something that BioNTech plans to verify between the months of January and February, according to Ugur Sahin, its CEO. The Moderna company also announced that it is testing its vaccine against the variant, but is equally confident that it will maintain its effectiveness.
"As a scientist you are never optimistic, but you think about probabilities and the probability that our vaccine is also effective against this new mutation is very high," said Sahin. He stressed that during the last months of development, each time a "really important" mutation appeared, they observed how it reacted and were able to determine that it was indeed capable of fighting "a whole series of different variants of the virus."
"Normality, understood as not needing a new stop in public life, to be able to continue economic activity and to be able to prevent hospitalizations and deaths, could be achieved with vaccination" by the end of the summer, "he predicted. He recalled that this does not depend only on the BioNTech-Pfizer vaccine, but also on others, such as Moderna, recently approved in the United States, and those that may be approved in the first half of 2021, something of which was shown " optimistic".
UPS participates in the delivery from Holland and Germany
Freight transport giant UPS reported yesterday that it will use its hub in the Netherlands and airport infrastructure in Germany to distribute the vaccine. This company has 10 million m2 of healthcare distribution space around the world. "UPS Healthcare's Cold Chain Storage and Transportation Competencies are ready and on standby to assist with deliveries across Europe," said Scott Price, UPS International President, who will use the UPS Healthcare campus with temperature-controlled facilities. in the Netherlands and a European air hub located near Cologne (Germany).