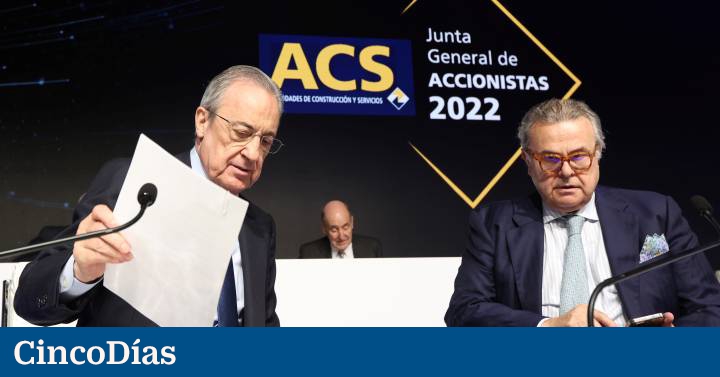 The president of ACS, Florentino Pérez, has exercised extreme caution this morning and has avoided referring to the shareholders' meeting about the attempted acquisition, known last month, of the Italian concessionaire atlantia together with the GIP and Brookfield funds. A silence that can be read as a declaration of peace, at least in public, addressed to the Benetton family, controlling shareholder of the aforementioned Atlantia. What Pérez has highlighted is the intention to develop Abertis, a concessionaire that he shares with the Italian conglomerate.
Pérez has reiterated that the funds raised from the sale of Industrial Services to Vinci will be used for growth in the concession business, through its subsidiary Iridium or the investee Abertis. The group analyzes possible investments in toll roads in the United States.
The other avenue of investment is in the development of concession projects in the field of renewable energies. For this last challenge, ACS has signed an alliance with Vinci itself, which will develop the portfolio of the Industrial Services area.
Florentino Pérez has raised the flag of ACS's "world leadership" in greenfield and brownfield concessions, and has referred to the desire to bring together under the umbrella of ACS the 30% that it already controls plus the 20% minus one share of Abertis that it has in hands of its German subsidiary Hochtief. With this, ACS would achieve a direct participation of 50% minus one share, for the 50% plus one share held by Atlantia. For this movement, the permission of the Italian will be necessary, which is also a participant in Hochtief and with which it has a shareholders' agreement in the Catalan concessionaire.
This step is part of the project to simplify the corporate structure of ACS, such as the one underway in Australia for the exclusion of Cimic from the stock market, with a takeover bid valued at 940 million euros. ACS also insists on the intention of promoting Hochtief as a reference in construction, with the development of subsidiaries such as the aforementioned Cimic or the American Turner.
The meeting has approved the appointment of Juan Santamaría, executive president of Cimic, as executive director of ACS. After that, the manager becomes CEO of the group. Pérez has underlined that Santamaría has developed his entire career at ACS, which he joined in 2002. During these 20 years he has accumulated experience in markets such as the United States and Australia, with special participation in the development of the company in the market. concessional.
The board of ACS has brought to the shareholders' meeting a dividend of two euros per share, "which we hope to maintain in the coming years", the president has sentenced.