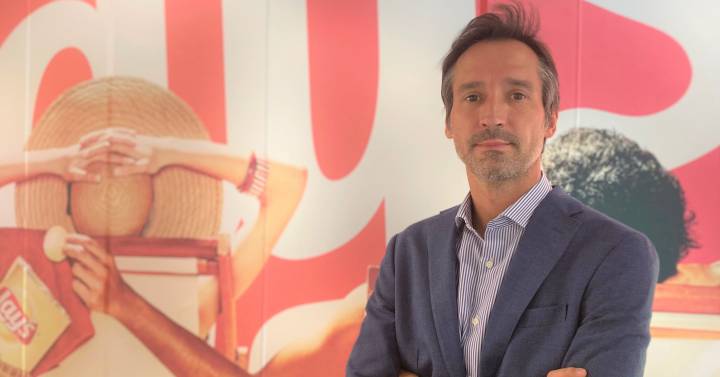 The soft drinks and food multinational Pepsico has a "pilot market" in Spain to test new products and initiatives, which makes the country a reference within the company, the new general director of Pepsico Spain, Iker Ganuza, tells Efe.
In his first interview with a media outlet since his appointment was announced last January, Ganuza analyzes the challenge posed by the current inflation scenario for the company, the demands of consumers and the path taken towards sustainability. Ganuza accepted the position after three years as director of marketing for Pepsico in the Food category for Southwest Europe and from his new position he expresses that he aspires to ensure that the company has a positive and recognizable impact on the community.
What does PepsiCo Spain represent for the company as a whole?
In terms of figures, we are one of the top 20 markets within PepsiCo, we are not one of the largest, but we are a reference market within the company because here we work with all product categories and we are present and relevant in various channels : modern, traditional retail, electronic commerce and Horeca. That makes us quite unique and makes us a market that Pepsico uses as a pilot for many initiatives.
Pepsico does not deliver results segmented by country, but at the global level it obtained a profit of 7,618 million dollars in 2021, 7% more than the previous year, although it was affected by the increase in costs in the last quarter, a problem that keep going. How do you deal with this situation?
We are suffering from this inflation, like the entire industry, in highly relevant raw materials and in energy. In the field of sales we are having a good year, especially in consumption away from home, on the other hand we are absorbing a large part of this inflation with internal efficiencies. We believe that these elements can help us compensate for what we are suffering.
Does it also contemplate price increases or reductions in the quantity of the product to combat the rise in production costs?
We are passing on the price the same as the rest of the players and brands in our category, but above all we are trying to offset this inflation in raw materials with internal efficiencies. Regarding our formats and weights, these are dynamic and each year we adapt them motivated by our obsession with wanting to capture new modes of consumption.
How does Pepsico Spain manage the offer of flavor indulgence products in a society that seeks healthy consumption?
We are improving the nutritional profile of our gender to be able to offer flavor indulgence products that better fit into a balanced diet. In our beverage category, more than a third of the ones we put on the market are already sugar-free; and in appetizers or "snacks", in the last 10 years we have reduced 70% of saturated fats and the amount of salt by more than 30%. In the end, it is the consumer who decides and is increasingly clear about what he wants and more ways to achieve it. In addition, it is demanding that we be increasingly sustainable and not only that the product is better from a nutritional point of view, but that we have a product with a clear reduction in emissions and that our agricultural practices are much more sustainable.
What strategy are you carrying out with plastic packaging?
We abide by a strategy of recycling, reinvention and reduction. We are reducing the amount of plastic in our bags of chips; Regarding recycling, last year we were the first company to move a large part of our portfolio to recycled plastic; and in the part of reinventing, here at a global level but soon there will be movements in Spain, we are reinventing the way in which we access consumers without plastic.
Do the shareholders share the consumer's vision or are they fundamentally asking for an economic return?
One of the great fortunes we have is that all our stakeholders (consumers, customers, shareholders, regulatory bodies, etc.) agree that we have to move to a more sustainable basis, not only Pepsico but the entire industry. We have communicated it by letter to our shareholders and we are also demonstrating it. For example, this year we have protected all investments in sustainability.
What legacy would you like to leave at Pepsico Spain?
I want to lead the company to continue growing and also have a positive impact on our community. We are a more local company than we think: we make our products here, our raw materials are from here, we have a huge number of employees… Our impact within the country is very great and we would like to contribute to making this impact even greater positive in the community and that all this is recognizable.