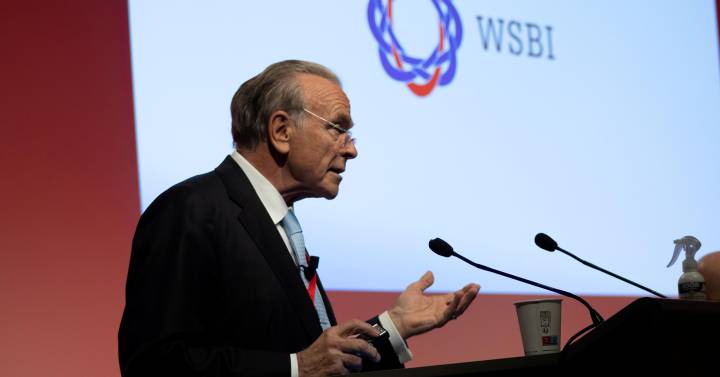 Surprise. The La Caixa Banking Foundation, chaired by Isidro Fainé, has approved its renewal with the entry of a cast of Spanish businessmen from the most prominent in the business world. Also noteworthy is the renewal of Fainé's position for another four years, who will turn 80 in July.
The Board of Trustees has also renewed Juan José López Burniol, Isidro Fainé, as Vice President for the next four years.
In addition, from its next session, it will incorporate José María Álvarez Pallete, president of Telefónica, and who replaces Cesar Alierta, Isabel Gabarró -member of the Barcelona Economic Society of Friends of the Country-, Joaquín Gay de Montellá -was president of the Catalan employers Foment del Treball Nacional between 2011 and 2018, and accesses the Board of Trustees on behalf of said entity within the rotating shift that the Statutes of the La Caixa Banking Foundation-, and Pablo Isla -until next April 1, occupies the position executive president of Inditex.
The new representatives of the Board of Trustees replace Salvador Alemany, César Alierta, Antoni Fitó and Javier Solana, whose mandates end due to temporary expiration.
The Foundation, which is the owner of Criteria and CaixaBank's largest shareholder, has thanked the four outgoing trustees for their valuable dedication and judgment in preserving -over these last few years- the ultimate goal of the Foundation; the construction of a fairer society with more opportunities for all, especially for those who need them most.
The "la Caixa" Foundation, whose general director is Antonio Vila Bertrán, will have a budget of 515 million euros in 2022, thus increasing last year's endowment, which was 510 million. One of the items from which the Foundation is most nourished is the dividends of the companies in which it participates, especially CaixaBank.
The institution assures in a statement that in this way the entity consolidates its social commitment maintaining for the thirteenth consecutive year a budget of more than 500 million euros.
Overcoming child poverty in Spain (with 61,244 boys and girls and their families cared for in 2021), promoting employment among groups with difficulties (48,758 job opportunities created), caring for people with advanced illnesses (34,670 patients cared for) , support for social entities, the promotion of education and training for all kinds of groups, the dissemination of culture and science among audiences of all ages (5 million people visited the CaixaForum, CosmoCaixa centers and exhibitions itinerant) and medical research continue to be the main priorities, explains the Foundation.
Within the latter line, the entity works on the CaixaResearch Institute project, a research center dedicated to life sciences with a mostly preclinical and translational vision, particularly in the fields of infectious diseases, global health, oncology and the neurosciences.
The new center will have an investment of around 60 million euros and its creation and development will be supervised by Javier Solana, who continues to be linked to the "la Caixa" Foundation, as President of its Scientific Committee.