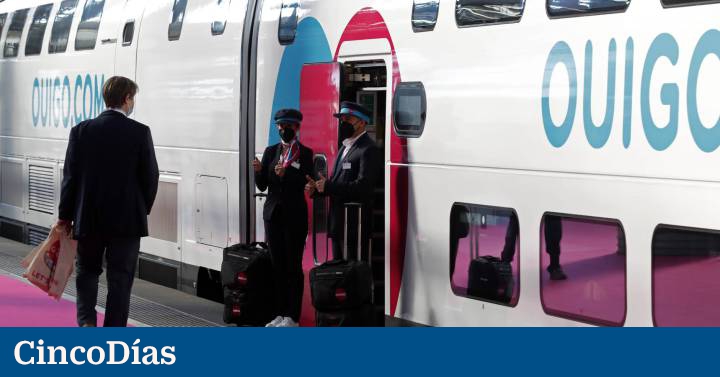 Half a year after starting operations, the railway operator Ouigo has reached the million passengers on the Madrid-Barcelona line. Still on the road to recovering from normality in transport, the average occupation of the trains has been 97%, with peaks of 99% in the months of August and October, according to data provided this morning by the company.
The subsidiary of the French SNCF says it is changing the profile of the traveler thanks to its offer of cheap tickets: 62% of users are under 45 years. In the strategy of attracting customers from the road, Ouigo has served 160,000 people traveling as a family, of which 70,000 were children or babies. The former pay a flat rate of 5 euros, between the ages of 4 and 13, while those under three years travel for free.
Ouigo's first high-speed convoy between the two largest Spanish cities departed on May 10, in competition with the Renfe AVE. A month later the service was added low cost Avlo also from Renfe. The first ensures that it has reached the goal of one million travelers five weeks in advance.
The Ouigo trains, unique in the Spanish high-speed network due to their double height, have capacity for 509 people. The company remembers this morning that one of its objectives in Spain was reduce the price of the ticket by 50% on average to attract a new audience to the railroad: families, young people, students, the self-employed and staff of companies of all sizes.
The general director of Ouigo in Spain, Helen Valenzuela, highlighted the milestone that "an unknown company in Spain a year ago reaches one million travelers in a matter of months." From his point of view, it is clear that "we have brought that sustainable and digital mobility that the country longed for."
Ouigo is offering five daily frequencies in each direction of circulation and intermediate stops in Zaragoza and Tarragona. This last destination will be available again from December 12 and throughout 2022 with one stop per day in each direction and two extras on weekends during the summer.
Already for next year, the start of operations is scheduled between Madrid and Valencia. It will be in the spring and with three frequencies per sense a day. Months later it will be Alicante, with two other daily frequencies. The commercial director of the company, Federico Pareja, hopes that these next services will repeat the success achieved in the Madrid-Barcelona axis.
When Ouigo can enter Córdoba, Seville and Malaga, it will be operating 30 departures per day and 14 Alstom Euroduplex trains.