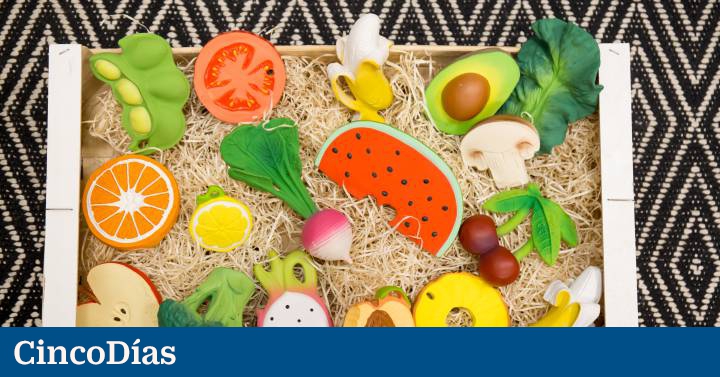 "Since my son has this teether, he eats broccoli!" comments a surprised mother on the Oli&Carol website. She is referring to Brucy, the name with which this young Catalan company –which emerged in 2014– has baptized one of its star products that stimulates and soothes the gums of babies during the tooth eruption process.
Two sisters, Olimpia and Carolina Román, 29 and 24 years old, respectively, are in charge of this company that designs and manufactures teethers and bath toys for babies and children between zero and five years old. "Our products are made with 100% natural rubber, extracted from Hevea trees in Malaysia," they say by phone from Barcelona.
"Everything is done by hand, it is not mass production. The Hevea is poured into a plaster mold. After its solidification, the piece is extracted, polished and painted with natural pigments one by one by hand", explains Olimpia Román. The factory is in China and its headquarters and warehouse are 1,000 mtwo, inaugurated in 2021, in Esplugues de Llobregat (Barcelona capital), where 15 employees work. Most of the orders come from the warehouse, while from its factory it is supplied to the most distant markets: Canada, the USA and Australia.
"The toys have no holes, no water gets in and no bacteria are created, so they are 100% safe and clean. The objective is to introduce children to healthy food and also make families aware of the need to consume materials that respect the environment", adds Carolina Román.
beginnings
They developed the brand when they were just 21 and 16 years old and in college (the oldest, Olimpia, graduated in International Commerce and Marketing, and Carolina, the youngest, in Advertising, Public Relations and Marketing).
The beginning was unique. A French distributor paid in advance and a supplier financed the first purchase, they recall. "Until today, we can say that we have never needed any type of external financing," they comment. Eight years later they are present in more than 80 countries thanks to their 30 exclusive distributors. In addition to the website (Oliandcarol.com) and direct sales (3,000 points).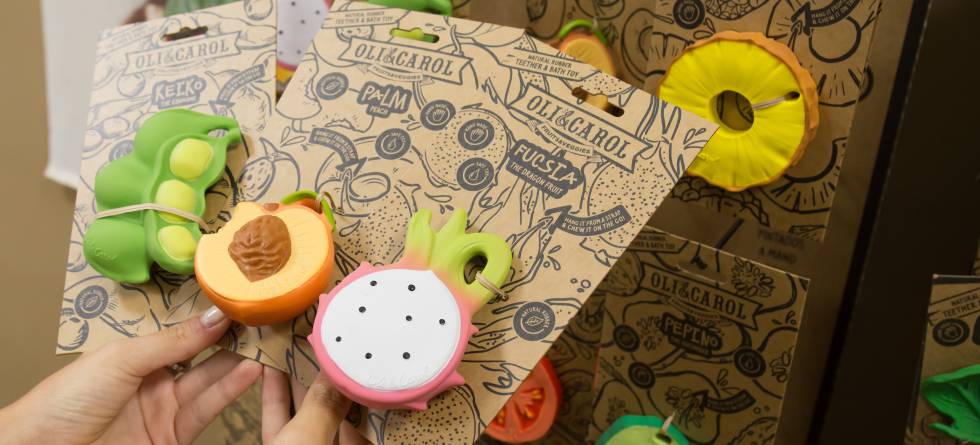 €3 million It is the approximate billing amount that the company expects to reach this fiscal year.
In 2021, the year of great growth, they sold more than 500,000 units and invoiced 2.8 million euros, 58% more than in 2020, the year of the pandemic. The forecast for this 2022 is to reach around 3 million.
A jump that is also due to social networks, especially Instagram (132,000 followers). "Since we were little, we always wanted to set up something on our own, we have always been very aware of sustainability, caring for the environment. It was not so much the product, but the how, what messages we wanted to give and what perspectives we wanted our community to follow", declares Carolina Román.
The Ana banana, the Ramona radish and the Wally watermelon, among others from its most popular collection of fruits and vegetables, can be found in department stores such as El Corte Inglés and in independent baby and childcare stores. In Madrid, at Casa de Fieras and in pharmacies like Goya's. Also in bookstores, such as the famous American Barnes & Noble, and in museum shops, such as the Victoria and Albert museum in London or the Louisiana museum in Copenhagen.
Ana Banana can even be seen at the Barcelona Design Museum until August 8. This teether and bath toy won third place in the Body Design category of the 2020 ADI Awards, which are given during Barcelona Design Week, for its texture, realism and ergonomic design.
Likewise, the H2Origami line, of marine animals, also stands out for the bathroom. In 2021 they added 10 pieces to their line of fruits and vegetables: Lemon John, Palm peach, Ananas pineapple, Renato tomato, Keiko peas, etc. "They are very colorful fruits, with the aim that children eat healthy," emphasizes Carolina Román. In addition to eight pieces of flowers and two butterflies in the new Garden collection.
expansion plans
The company wants to expand its presence abroad through distributors, specifically in South America (Chile, Peru, Brazil) and Asia (South Korea and Japan), details Olimpia Román. "And at the product level, continue to be sustainable, continue to innovate and launch collections that connect with those parents who are looking for natural, ecological, handmade products, and open new product categories around the baby world," she points out without specifying.
war effects
Regarding the current context of high prices, crises in the supply chain, in transport and energy, the sisters are optimistic. They have suffered delays in the delivery of the containers, but they assure that "they are handling it". However, due to this situation, at the end of last year they increased the price of their products between 5% and 10%. For example, the Wally watermelon now costs 17.90.
But what has affected them most is the war in Ukraine. In Russia, sales have dropped and they receive the merchandise late, and in kyiv they have fallen to zero, says Olimpia. "Uncertainty is beginning to be felt in the markets. People are more stopped in terms of consumption. This happens in all companies, but we are positive. We see very good acceptance in the new collections and we are happy", she confides.
Donation. Oli&Carol allocates 2% of its turnover to social and environmental causes. "We try to link each collection to a solidarity action or a powerful message. As a brand, we want to convey to our followers that, if each one contributes a little bit and we join together, we can help", says Carolina Román, one of the company's founders.
Organizations. For example, for each purchase of a character from the H2Origami collection, the company donates 10 cents to Oceana to fight against ocean pollution. In addition to other collaborations with Ágatha Ruiz de la Prada, against childhood cancer, and with the Luzón Foundation and former soccer player Juan Carlos Unzué, for research into ALS (amyotrophic lateral sclerosis).