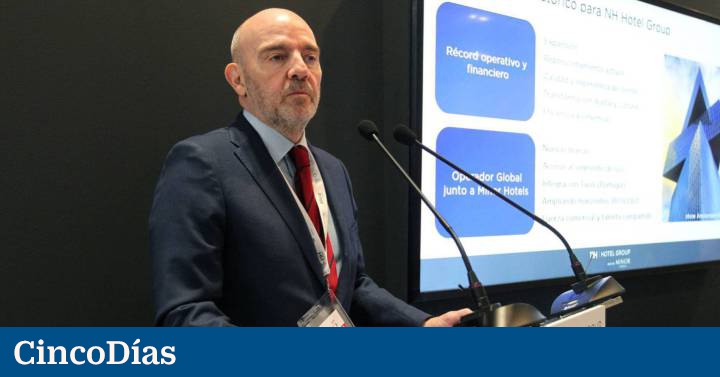 The NH hotel company, 94% controlled by the Thai Minor, presented results this afternoon in which the reactivation of tourism acted as a catalyst to wipe away the terrible metrics achieved in 2020. Of the 371 million euros of losses and the 685 million net debt (it quadrupled in twelve months) registered in the first year of the coronavirus has gone to a negative result of 133.7 million (69% less) and a net debt of 567 million euros (117 million less) in 2021. Between October and December, it achieved the first consolidated net profit and the first positive EBITDA since the start of the pandemic.

The change in trend was especially noticeable in the second half of the year, in which the company achieved generate a positive cash flow of 29 million euros, the first in the entire pandemicthanks to the reactivation of the business (revenues grew by 54% in 2021) and strict cost control."In the second half of the year, the recovery in revenues was stronger in southern Europe due to fewer restrictions, where the strength of the leisure customers was joined by the gradual reactivation of the business traveler with a relevant impact in the main cities".
The sequence of the turnover in the four quarters of 2021 shows how from 62 million in the first quarter it went to 154 million in the second, 213 in the third and 345 million in the fourth.
In this context, the balance of the CEO of NH, Ramón Aragonés, was very positive. "We have already traveled a good part of the way to return to benefits. We hope to complete this journey this year, thanks to the combination of a differential offer in leisure, preferred urban locations in emblematic cities, as well as the gradual reactivation achieved after the summer of events, meetings and business trips. Ómicron has had a significant incidence, but limited in time to the months of least activity. The data for the year so far improve week by week and make us optimistic and convinced that the good news is starting to arrive faster and faster", he stressed.
NH plans to open ten new hotels and will reform six in 2022. In the chapter on openings, six of them will correspond to the NH Hotels brand (Emirates, Italy, Colombia, Argentina, Chile and China), three to NH Collection (Milan and two in Doha) and another to Nhow (Germany). It will also carry out five complete renovations under the Anantara brand (Amsterdam, Budapest, Rome, Dublin and Nice) and another at the NH Collection in Venice.