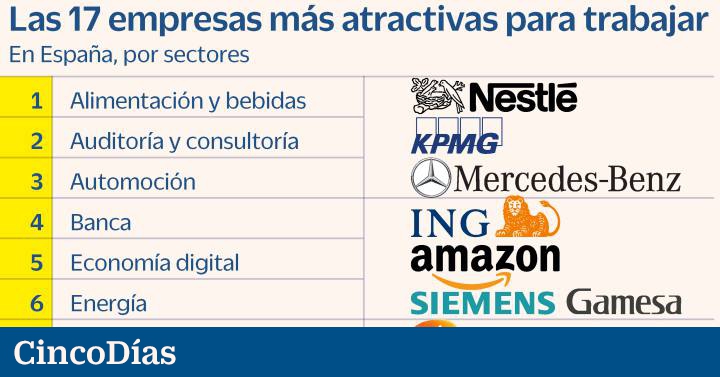 Nestlé, KPMG, Mercedes Benz, ING or Amazon are some of the 17 most attractive companies to work for in Spain, according to the Randstad human resources group, which has consulted more than 10,000 people to choose the best valued companies in the country in their respective sectors.
Thus, in the telecommunications sector, the company considered to be the most attractive was Telefónica, while in the insurance sector Mapfre was chosen; in the digital economy, Amazon has won; in industry and food, Nestlé; and in retail, Ikea has been the most valued.
For its part, in the banking sector the chosen one has been ING, while in the automotive sector it has been Mercedes-Benz; in energy, Siemens Gamesa; in auditing and consulting, KMPG; in pharma, GlaxoSmithKline; in mass consumption, Johnson & Johnson; in the industrial sector, Siemens; in logistics, Correos, and in media, Atresmedia.
The list of the 17 most attractive companies to work for in Spain is completed with Decathlon, in the textile retail sector; Basf, in the chemical sector, and Oracle, in business services.
The Randstad Awards, which the group awards to the most attractive companies to work for, celebrate their thirteenth edition this year and to obtain the results in Spain, 10,000 people with and without work, between 18 and 65 years of age, have been consulted.
Companies cannot request their inclusion in the study, which was carried out by an independent entity based on the perception of the general public and not of the companies' own employees.
For the election of the winners, it is taken into account that the company has a brand awareness of more than 10% and that they are selected in greater numbers by those surveyed as the most attractive to work for. Likewise, the data shows which are the sectors preferred by those surveyed to develop their professional career.
Randstad highlighted in the presentation of the results that, while during the years of economic crisis the most valued thing was job security, currently work-personal balance, the work environment and flexibility have gained ground.