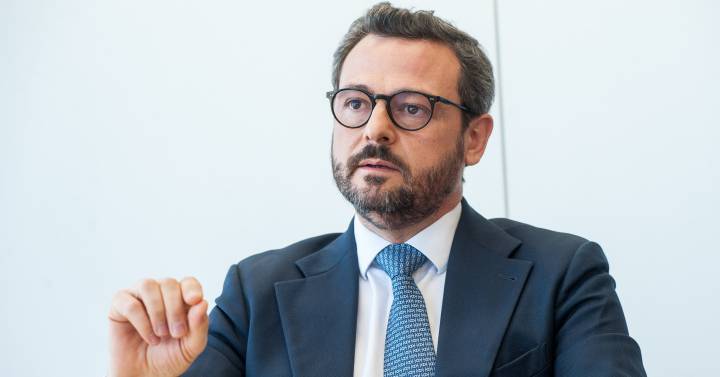 Miguel Luzarraga, Iberia director at AllianceBernstein since the summer of 2018, trusts US equities more than European, although he warns that, this time, the selection will be fundamental. The American manager, with some 2,500 million euros of assets in Spain, advises conservative investors short-term high yield debt portfolios. She also explains that there are opportunities in the US securitization market, with returns of around 4%. The manager anticipates that the Fed will raise rates until there is tangible evidence that inflation has peaked and is beginning to decline.
The start in 2022 of equities has been negative, especially in technology. What do you expect for the rest of the exercise?
Valuations are adjusted from what we saw last year and yes, the adjustment we saw in January has put us in a position going forward to build portfolios. All in all, the main player continues to be equities, because we see growth potential.
Do adjusted valuations mean that there is hardly any room to rise?
It means that there is a limited margin and that it is not worth investing as we did before. We don't follow a benchmark, we do stock-picking [selección de acciones], we are looking for quality companies that have done their homework well, that reinvest in their business, we are not looking for companies that distribute many dividends. We consider that there is an upward path where we are investing. In addition, we value the ESG component.
And where are they investing?
Our favorite market continues to be the United States. It is no longer as popular as it used to be, but it remains number one. The country continues to offer diversification by sector, style and size. The American market continues to be healthy, and we think there are still many opportunities.
So far this year, the European stock markets have behaved better…
In Europe there are more companies value [de valor] what of growth [crecimiento], and we see it as the second market. But in the United States you can also take advantage of the situation.
Which sectors are going to take advantage of this situation and which are going to be the most damaged?
Rate hikes will affect growth companies more, by changing the discount rate that is applied to value companies. Part of the corrections that have been seen so far are derived from these valuation adjustments in the technology sector, which have then spread to the rest of the market. There are defensive and cyclical companies that may also benefit from this environment of rising rates.
How intense will these increases in the price of money be?
I think the most likely path is for the Fed to raise rates by 25 basis points per meeting until there is tangible evidence that inflation has peaked and is starting to come down. I expect rate hikes in March, May and June, with a high probability of hikes in subsequent meetings as well. I now forecast a total of 125 basis points of hikes this year.
Will this imply an economic slowdown?
The persistence of inflation and the Fed's expressed willingness to combat it mean that rates are likely to rise even if the economy slows, as I expect it will.
Apart from the rise in inflation, are the problems derived from the pandemic over?
Unfortunately, the answer cannot be homogeneous. Not all economies, not all markets are going in unison. I am not an expert in virology, but as we see all the letters of the Greek alphabet, they go away, let's say, softening their effects a little.
Which countries have done better?
There are economies that are coming out of this situation earlier because of their way of approaching the pandemic, which has been different, I'm not saying it's better or worse… But I'll give you the examples of the United States or China.
Precisely, they have faced the situation in a very different way…
China continues to grow in a very healthy way, but it is true that the closure of borders is taking its toll, while other Asian countries are not. Instead, the United States remains open and that openness, let's say, is having a positive effect.
Is it time to return to sectors that were badly damaged by Covid, such as tourism?
I think that both tourism and consumption will continue to be affected; We are going to see not only the cyclical effect of the holiday seasons around the world, but also the cyclical drift of Covid itself. Today, it is necessary to look at the tourism sector more carefully.
The price of fixed income, which falls in price and rises in profitability, is suffering from the new paradigm in rates. What can you expect from her in 2022?
Savings in Spain are in fixed income, many of our pensions are in fixed income and their valuation leaves much to be desired. To do? Getting in and out is very difficult, you have to leave this type of investment in the hands of experts.
And what does AllianceBernstein recommend?
We are looking for alternatives with lower credit quality but with low duration. We recommend short-term global high yield debt funds for the conservative investor, but always with portfolio diversification.
What other options exist in the debt market?
There are interesting alternatives, such as the US securitization market. The US mortgage market is not the one we saw in 2008, it is much healthier, it has evolved, and there are instruments that offer returns of more than 4% with short durations.