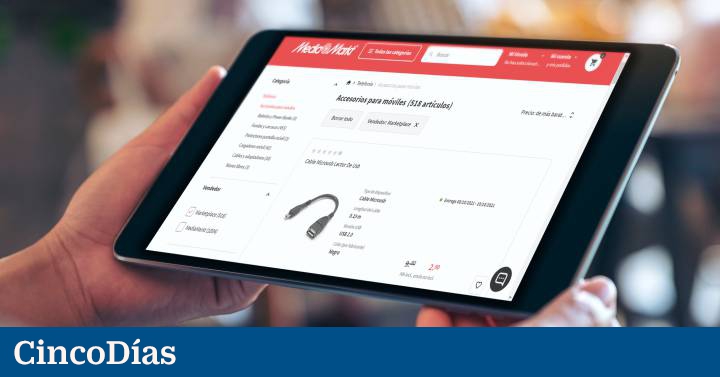 MediaMarkt has decided to give entry to other sellers on its platform, as Amazon or PcComponentes does, and has launched its own marketplace in the Spanish market. It is the second country where the company starts the project, after launching it in Germany last summer.
The multinational, which thus seeks to better compete with the two targeted rivals, has explained that in this first phase the marketplace starts with 3,000 product references and 16 vendors in categories such as PC Gaming, small appliances and mobile accessories. The goal is to grow to 200 sellers and 100,000 referrals in the next 12 months.
The giant of the distribution of technological products assures that with this movement it manages to expand its current omnichannel offer and "take a further step in its commitment to become the first choice for customers in consumer electronics."
MediaMarkt has not provided a business forecast, but its Spanish rival, PcComponentes, which launched its marketplace in October 2018, assured last March that this already represented around 7% of its 2020 turnover (which amounted to 647 million euros), after raising sales on the platform by 300%. When the project started it had three vendors and at the end of 2020 it already had 200 and 400,000 orders. PcComponentes expects to reach 350 vendors this year and boost its business volume by around 90%. marketplace.
"They have been months of hard work to meet the deadlines that we had set," he says.Timo Scherbaum, Head of International Marketplace of MediaMarktSaturn Retail Group, who points out, without giving more details, that the launch is carried out after the success of the initiative in Germany.
The multinational explains that users will be able to clearly see on its website when a product is of the marketplace by the specification that accompanies the product description, where the phrase "sold and shipped by" will appear. The rest of the purchase process is the same as when buying in MediaMarkt, being able to choose the payment and shipping method that is preferred. The purchase will be received by the seller.
The announcement of the German giant seeks to boost its business. The company, as CincoDías explained last March, has set itself the goal of achieving revenues of 3,000 million euros in Spain in 2025, which will almost double the figure it reached in its fiscal year 2020, closed on September 30, when it reached 1,871 million. An objective that they also want to achieve with the opening of more stores (some of a smaller format). MediaMarkt acquired in January of this year 17 of its stores in Spain from Worten.
According to McKinsey, e-commerce penetration experienced the equivalent of 10 years of growth during the first three months of 2020. And a significant part of that growth was accounted for by marketplaces: during the fourth quarter of 2020, these grew more than double the general rate of ecommerce.
Adrien Nussenbaum, Co-Founder and Co-CEO of Mirakl, the French startup that offers a SaaS (software as a service) platform to promote the creation of marketplaces and that it has clients in Spain such as El Corte Inglés, PcComponentes, Carrefour, Conforama, Tíanimal, Sprinter and Venca, he assured in a recent interview with this newspaper that currently the marketplaces represent in many countries more than 50% of electronic commerce "And the reason is that when users buy they want to have the largest possible selection of products, they want to know that the price they pay is the best and have an excellent service with very fast delivery."