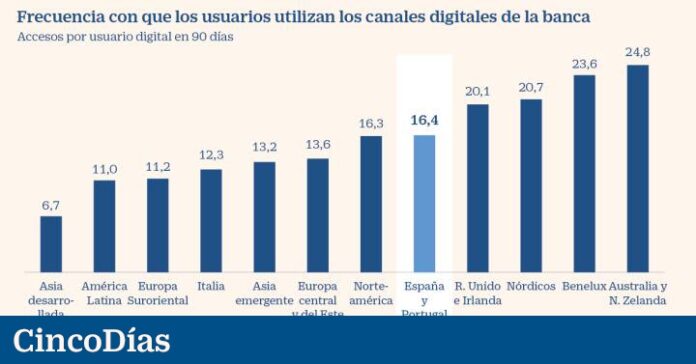 In the last five years, banking digital sales registered an average annual growth of 25%. Spain, however, is at the tail of this operation, according to a report by the consulting firm McKinsey. The firm explains that the progress of digital banking is usually measured by three metrics: Digital adoption, which measures how many customers have logged in at least once through mobile or web channels; digital engagement, which accounts for the frequency with which users have used digital channels; and digital conversion, which indicates how many of the logins end up for sale.
These three metrics are what result in digital sales increasing by 25% globally every year since 2015, going from 39 to 93 in 2019.
But behind this growth considered outstanding by the consultancy, there are very asymmetric levels of performance between countries, explains Ignacio Crespo, McKinsey partner in Spain. "The difference between Spain and Portugal with respect to other more advanced countries can only be partially explained by market conditions," says this expert.
Specific market conditions such as the age of the customer in Spain, the use of the Internet or the lower penetration of electronic commerce in general in Spain or Portugal can explain between 10% and 50% of the specific gap in the market with respect to main European countries. But the role of the bank also influences another 50% to 90%. And this is where McKinsey considers that there are important opportunities for improvement for Spanish banks.
Two of the highly relevant factors that are under the control of the bank itself are, according to the conclusions of the European Commission's Digital Transformation Monitor, the level of digital investment (Spanish banks invest half in digital development as countries leading digital sales) and the shortage of digital talent (entities in Spain have half the supply and demand for digital talent than other European markets).
Crespo explains, however, that after the Covid the analysis reveals that some Spanish banks have a digital evolution superior to the rest. In a survey conducted by Finalta in April, Spanish customers reported increasing the use of web and mobile channels by 17% and 23%, respectively. The only country that saw similar acceptance was Italy, with 14% and 13% of customers declaring themselves more likely to use the web and mobile, respectively.
The report proposes several measures to increase the use of digital banking by Spaniards, such as micro-segmenting customers based on profile and interaction to carry out campaigns, or deploying "digital experts" in all branches. It also recommends minimizing the number of steps in navigation and barrier questions, or enabling real-time support from the call center. The report explains that a Spanish bank has managed to increase digital conversion by 30% in six months, without negatively affecting customer satisfaction, increasing the intensity of the campaigns from 5 to 70 actions per month.