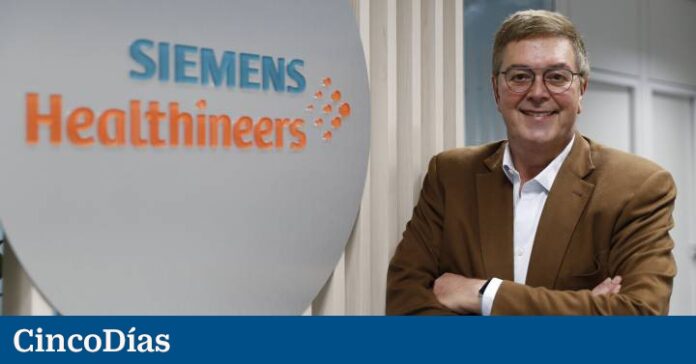 The healthcare technology company Siemens Healthineers, which entered 14,500 million in fiscal year 2020, ended on September 30, has been one of the main providers of medical devices and digital solutions of the public and private health system during the health crisis due to Covid. Also diagnostic tests. "Any hospital in this country has something from Siemens Healthineers", highlights its general director in Spain, Luis Cortinas (1955, Badalona, ​​Barcelona), at the headquarters of the German firm in Getafe. A pharmacist by profession, the executive emphasizes how telematics systems have helped hospital management at a critical time and the need to invest more in technology and digitization.
How did the company deal with the first state of alarm?
The first priority was the safety of our people. And the second, to continue providing the service, especially in April-May, because any hospital in this country has some Siemens Healthineers, and much of our technology is associated with the diagnosis and treatment of lungs and Covid.
What teams were in demand?
During that period we focused, because it was what public and private hospitals demanded, on the supply of TAC [tomografía computarizada] for pulmonary diagnosis. The number of applications doubled [sin dar más detalles]. One out of every two CT scans that hospitals acquired came from our company, such as the one installed in the emergency room in La Paz. It is operated remotely, with a tablet, with which the doctor avoided contact with the patient. Also portable X-ray equipment, the number of requests quadrupled. And the ultrasound ones, to do lung ultrasounds without moving the patient.
We want to develop three key areas for the company for the future: cardiac, neurological and oncological
And in the laboratory area?
From May to date we have launched up to seven different types of Covid detection tests. From the typical PCR, which lasts 2-3 hours, to rapid antigen tests, in 15 minutes, and of which we have supplied one million to the Andalusian Health Service. Before summer we took another rapid one (15-20 minutes) to detect the presence of SARS-CoV-2 IgM and IgG antibodies in blood. And we recently launched a neutralizing antibody one, which is very important for vaccines: it quantifies whether the antibodies rise or fall.
Do you negotiate with other communities the sale of antigen tests?
Yes, with nine communities, but we cannot reveal the names.
For neutralizing antibodies, do you already have contracts?
With 10 clients, but we can't say the names.
There has been controversy over which is more effective, PCR or antigen, what do you think?
The reference method is PCR because of its specificity and, especially, because of its sensitivity. Detects even in asymptomatic situations. In the antigen test, if it is asymptomatic, it can give a false negative. Now, it is a way of helping the system, of catching positives whatever. For this reason, many antigen tests are being carried out in Madrid, Catalonia, Valencia, the Canary Islands and in emergencies, the plants of the hospital services and primary care. There is also an economic issue: PCR is more expensive and results take longer.
They also develop artificial intelligence projects.
At Covid, we are working on a couple of pilots to see, from the diagnostic data, how lung conditions evolve, and to give home care to geriatrics. In general, we apply it to improve hospital management and productivity, in oncology or for dose control in hospitals. We have been in the market for 120 years, we are a technology company, but we are also and increasingly want to be a digital company. In artificial intelligence we work with the Hospital del Mar in Barcelona, ​​the Hospital La Paz and the Health Time group.
Spain needs 1,400 million in the coming years to renew technology; there are teams with more than 10 years
Will this trend continue in the future? Patients complain that they no longer see the doctor.
Digitization in healthcare is vital for diagnosis and clinical treatment, process improvement and preventive medicine; is here to stay. The important thing is to know where the balance is, what the interaction between digital and face-to-face will be like. One thing does not exclude the other, it does not remove the human relationship between patient and doctor. Data protection law is key.
What are the challenges?
We must increase the training of professionals and invest, not to spend, in technological renovation. There is a problem of obsolescence, we have equipment that is more than 10 years old, and Spain needs 1,400 million in the coming years for its renewal.
With which hospitals do you have strategic alliances?
We have equipped the new Cáceres hospital with all the necessary technology; It is an eight-year agreement. We have with the Ministry of Health of the Region of Murcia, Cartagena and Mar Menor, 10-15 years. Other historical ones are with the Clínico de Barcelona, ​​the Clínica de Navarra and HT Médica. In addition to scientific collaborations with many hospitals in various areas.
What areas of Spain are key for the business?
Madrid, Galicia, Andalusia and Murcia. In Andalusia it happens that we have entire provinces that work with our robotic laboratory solutions, such as Córdoba or Málaga, to name two.
Are other areas interested?
Cardiac, neurological and oncological (breast, lung, pancreas). We have bought Corindus [en 2019, por unos 800 millones de euros], leader in robotic vascular intervention. The company works on four key concepts: precision medicine, transformation of healthcare, digitization of healthcare and improving the patient experience.
What does the merger with Varian mean?
It is in process, we expect it to be closed in 2021. This operation [valorada en 14.000 millones de euros] reinforces our positioning in the area of ​​oncology.