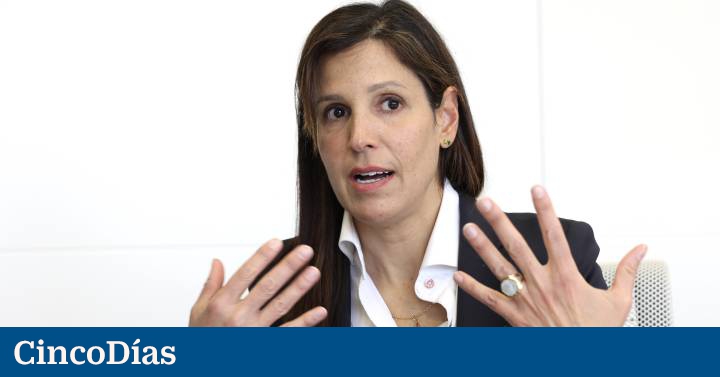 Lisa Ann Hill (New York, 1974) is the first woman to run the medical device company since the beginning of this year. Johnson & Johnson in Spain. It is not the only novelty that the multinational, fully involved in the process of splitting into two companies, has launched. For just over a month, this division has been renamed Johnson & Johnson MedTech. It is about more than a change of identity. It responds to the company's objective, which "is to be much more focused on technology and digital." To achieve this, it invested 15% of the sales obtained on a global scale in 2021, 14,000 million dollars (about 13,260 million euros), in R&D, a percentage that is maintained in the first quarter of 2022.
Why has the name of the division you lead changed?
It's not just a change of identity. It promises to be something much more driven towards technology, digital, and much more in line with what we want to achieve: create a digital ecosystem with which to have all patient care covered, from before, during and after the surgical intervention.
What does this digital ecosystem consist of?
They are a series of digital solutions that we are implementing and that cover from the moment the patient begins to think that they need surgery, then the entire process of this intervention and, later, recovery. We want to close this digital loop and be sure that we have covered all these needs.
What do they lack to close that loop?
We are now working on the data issue. We have different solutions, but each of them touches on an aspect of the patient experience. What we want is to unify them. This is what we call a data hub. It has not been done yet and what we would like is to connect this data, for the good of the patient, to be able to provide the correct and optimal care and learn.
How much money is the company investing in research?
We invest heavily in R&D. 15% of the sales achieved by Johnson & Johnson on a global scale in 2021, and which amounted to 93,800 million dollars (about 88,950 million euros), is allocated to research. They are just over 14,000 million dollars (about 13,260 million euros). This percentage is maintained in this first quarter of 2022, where I can also tell you that we are growing for the first time at pre-pandemic levels.
Where do they direct the investment?
We have a lot of new products that are released every year, but what is new and we try to implement is the digital solutions part.
What areas do they focus on?
General surgery remains the most important segment of our business. Other areas are cardiovascular diseases, arrhythmias and stroke. Also, in the orthopedic part, we have solutions for surgeries and implants. We cannot forget breast prostheses for reconstruction and obesity, for which we also provide a surgical solution.
I would encourage the entire sector to take advantage of the opportunity of European funds to renew the technology
What are some of those solutions you already have?
In 2020 we signed a strategic agreement with the French company Visible Patient. This makes 3D models that allow the surgeon to decide which approach to make to the patient in the operation. In at least 30% of cases it ends up changing. In addition, the time of the intervention is reduced between half and an hour. We collaborate with this system, among others, with the Clinical Hospital of Valencia. Another example is the acquisition in 2017 of the Surgical Process Institute (SPI), which makes it possible to optimize and standardize surgical processes, reducing complications and hospital stay by up to 50%. We are doing this at the Bellvitge Hospital in Barcelona.
Will you do more shopping?
We are going to continue building our digital ecosystem. We try to close the loop. We start with assistance programs, then comes everything we have mentioned and, finally, the post-surgical.
And from the point of view of logistics?
There are also others, such as RFID Tagging, which works at the Hospital Clínic in Barcelona. They are barcodes that can be scanned and that allow control and help with the management of all the material and also with its replacement.
And in sustainability?
What we try to teach, after verifying with the data that the operating room takes a considerable part of the consumption of a hospital, is that being more efficient in surgery, reducing infections that prevent readmissions and new interventions, lowers the consumption of energy, water and other resources. We're also looking at what they're doing in the Netherlands or Northern Europe with their medical device recycling programs.
How are European funds going to help the technological renovation of medical devices in hospitals?
I would encourage the entire sector to take advantage of this opportunity from European funds. What we see now is that hospitals are betting on smart operating room projects, something that is completely in line with our vision of digitizing surgery. Many are building new surgical blocks, like the 12 de Octubre in Madrid. Others are launching new projects, such as the Hospital del Mar in Barcelona. They want not only the building to be modern, but the entire patient experience as well. And there our role is to propose all these solutions.
How does the division of Johnson & Johnson into two companies benefit them?
I believe that the fact of having a new Johnson & Johnson approach will allow us to accelerate investments in the areas that can contribute the most to us. There is also the opportunity for closer collaboration with our colleagues on the pharmacy side of Janssen. We will be able to work more directly as two partners. There are very interesting areas to work with them, such as, for example, oncology, both in medicines and in the surgical area.