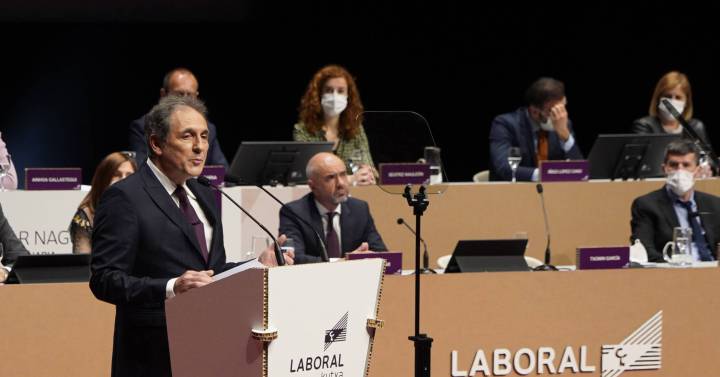 Laboral Kutxa has achieved net profits of 65 million euros in the first half of 2022, which represents an increase of 25% compared to the same period last year.
Laboral Kutxa highlights in a statement that, in addition to these results "obtained in an economic context full of uncertainties and economic growth slowed down by a drastic change in scenario", its main business indicators "reflect an outstanding competitive position".
Thus, in terms of solvency, its CET1 ratio of 21.14% positions the entity "as the leader in its reference market" and, in turn, the LTD ratio of 64.10% indicates "a comfortable liquidity position" .
In addition, its default rate has continued to decline during the first six months of the year, reaching 2.58%, while the return on equity (ROE) has reached 6.35%.
As for the net interest income, this indicator stood at 121.2 million euros, which represents a decrease of 1% compared to June 2021, which, however, has been offset by a 10% increase in the chapter income from services, so that the entity has achieved a growth of 2.6% in the basic margin of its business, which rises to 185.4 million euros.
On the other hand, the gross margin has decreased by 3.9%, weighed down by the evolution of the markets compared to 2021, which has affected both the dividends and the valuation of the entity's investments.
The corresponding expenses and amortizations in this first semester have increased by 10.2 million, 9% more, fundamentally due to the decision to extend hours and resources.
The chapter on allocations to provisions, write-downs and other impairments has hardly changed, so Laboral Kutxa's loan portfolio has shown no signs of impairment and the extraordinary provision of 100 million euros made in 2020 and 2021 to deal with the possible contingencies derived from Covid-19 has not had to be used.
Likewise, the entity has registered a decrease in the delinquency rate, which has stood at 2.58%, which implies an organic reduction of 45 basic points in 12 months.
The evolution of customer savings managed by Laboral Kutxa has grown significantly, reaching over 28,500 million euros, with an increase of 3.4% compared to the same period of the previous year.
As for credit investment, it has reached 15,614 million euros, with an increase of 3.4% in its year-on-year comparison, mainly due to the intensity of the financing activity of the business segment.
Along these lines, financing for families also continues to grow, with an increase of 1.1% in their total balances, which in the case of mortgage loans has been 0.9%.
In the insurance business, Laboral Kutxa's total premiums reached in the first half amount to 97.2 million euros, an increase of 1.2% compared to 2021.