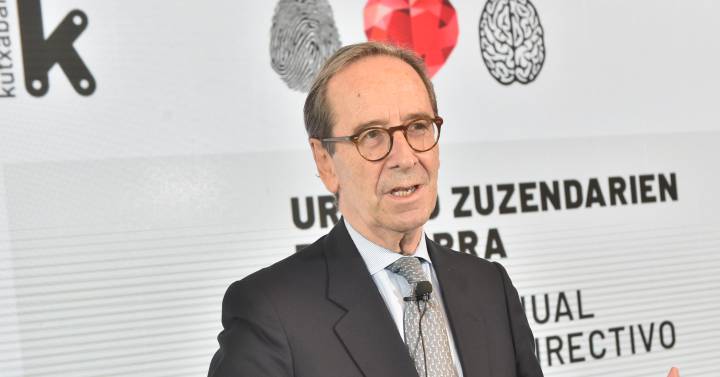 Kutxabank closed 2021 with net profits of 216.5 million after an improvement of 20.1%. With another year of negative interest rates, the group chaired by Gregorio Villalabeitia achieved contracting records for its products and services.
So recurring banking income grew by 8.2% and exceeded 1,165 million. The services and insurance item, which includes commissions for off-balance sheet resources (investment funds and pension plans, among others), grew by 18.8%, accounting for 606.4 million. It accounted for 52% of new revenues in the year. This item covers all operating expenses of the group.
The insurance division contributed revenues of 160.2 million, 5.5% more, which was achieved with the sale of 125,000 new policies, which resulted in an increase of 10.4% in revenues. The stock of policies exceeds 925,000. In 2021, premiums in the home, life risk and death lines grew by double digits.
The bank maintains this diversification without losing pace with the credit business. As of December 31, it exceeded a volume of 46,100 million, achieving an increase of 7.5%. In retail banking, strong mortgage contracting increased balances by 4%. The entity signed credits for 4,200 million for the purchase of homes, 18.8% more. In this segment it has a share of 45% in the Basque Country and 15.7% in Andalusia through its subsidiary CajaSur. In Spain as a whole, their presence is 8.5%.
In loans to companies, growth was 20%. Investment in fixed assets grew by 8.5% and reached 204 million. And consumer financing rose by 9.2%.
Digital banking continues to rise. 57.35% of all customers use this channel to connect with the entity. This percentage rises to 70% among subscribers to personal banking.
The default is set at 1.86%. The balance of doubtful assets was reduced by 158 million to stand at 941 million, 14% less than in 2020. With its prudent strategy, Kutxabank has made provisions for 278.7 million.
Dividend
The interest margin, with the aforementioned situation of negative rates, fell by 1.3%, to 559.3 million. Gregorio Villalabeitia has assessed 2021 as a "very remarkable year, with a strength recognized by the supervisory bodies, which have once again placed Kutxabank's risk profile, solvency and financial capacity among the best in Europe". Based on this balance, the bank will allocate 60% of the result to the distribution of dividends among its shareholders, the BBK, Kutxa and Vital foundations.
Customer funds exceeded 73,700 million, 8% more. In investment funds, it manages 21,000 million and increases its market share to 6.65%. In EPSVs (pension plans in the Basque Country) it accounts for 6,315 million, 6% more. Its share is 48.8%.
The contribution of the investee portfolio, for dividends and contribution from associates, was 58.4 million, 10% less.