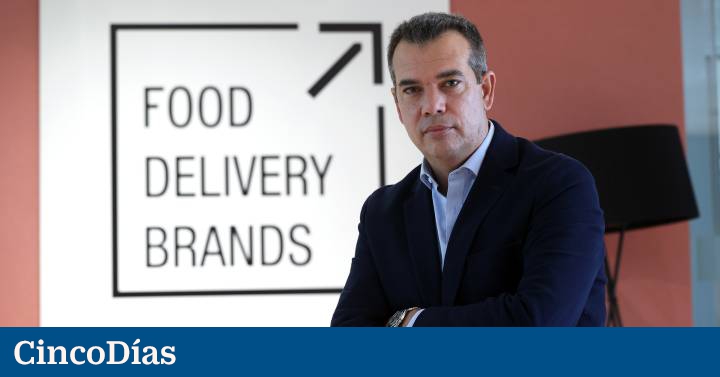 In the last year, what was previously known as Grupo Telepizza has been renamed Food Delivery Brands, and its executive team has undergone a profound renovation promoted by its largest shareholder, KKR. Now the ship is led by Jacobo Caller as president and CEO, an expert in mass consumption who has the challenge of adapting a pioneering company in home delivery to new modes of consumption, and of digesting the 1,300 openings committed to Yum !, the owner of Pizza Hut.
He assumed the leadership in March and in a period of difficulties.
2020 was very turbulent for all industries, and also for ours. In 2021 there was a very complex first part of the year. The second and third quarters have gone better, we are a little closer to the end of the tunnel. Both in Spain and in Latin America there is a clear recovery trend.
What deadlines are given to recover the 2019 income? And to be profitable?
We have markets, such as Ireland, Colombia, or Mexico, that are above 2019 levels. Not in others. In 2022 we plan to reach pre-Covid levels. Regarding profit, investment levels in the pre-Covid years were very high. The plan is to focus on fewer things to better control them. Once we return to 2019 income we will see a substantial improvement in cash flows, and the annual investment will be between 35 and 40 million. In 2023 we hope to start making a profit and be able to pay off the debt little by little without having to ask shareholders for more money.
How has the pandemic changed the priorities of the company?
Shareholders were looking for a new strategy with a different team. They think that Covid-19 has changed the paradigms of the business. Now digital transformation is a priority and we have to put a lot of resources into it. The second priority is the markets: to divest where we had few options to be leaders and were not very profitable. We have left Poland, Angola or Russia. We want to invest in places with better returns and where we aspire to leadership.
And the third is the formats. The Covid has accelerated a trend for five years: home delivery and collection are catalysts for growth and the canteen loses a significant share of sales. Although it recovers, the aggregators will continue to gain share. That changes the model: in Spain and in other countries we go to smaller restaurants, with more technology and faster returns.
The trends are of clear recovery. We are closer to the end of the tunnel and in 2022 we will consolidate it
They talk about reducing the weight of the dining room, but they have a commitment to Yum! to open 1,300 restaurants in 10 years.
The contract came into force in 2019 with pre-Covid premises. The pandemic caused an unforeseen paralysis and had it renegotiated. But the fundamentals are still intact, and we now have an additional year or two to meet the targets. The deadlines for converting Telepizza restaurants to Pizza Hut have also been renegotiated. We have more flexibility and penalties for non-compliance have been reduced. It gives us access to 500 million potential customers. In return you commit to growth, and we are determined to follow through on the plan.
Was the initial agreement sustainable for Telepizza?
I think when it was signed it was perfectly viable. There was a good cash position, good recurring EBITDA and manageable levels of leverage. Covid-19 caused balance sheets to deteriorate. But it had all the strategic sense, to access 500 million customers, something that with the Telepizza brand would not be so possible. That said, it had investment requirements in new non-natural markets that required a need for cash to meet them. We now have a healthier position and are in a position to meet our commitments.
Would you have signed it?
The one we have signed now is almost the same, except for what it said before. From a strategic point of view, it is indisputable: we went from a domestic company and very focused on a few countries, to having a range of 32 countries where it would have been very difficult to reach with our own resources.
How much investment with own funds does it require?
This year, adding the part of the franchises, we will invest 39 million, of which 15 go to Spain. Our own funds are between 12 and 15 million a year. In Latin America, for example, expansion is done by franchisees.
What markets are central? Do you have room to grow in Spain?
In Spain we have the potential to grow with Telepizza. At least we have space for 100 more stores, in smaller towns and testing new formats. With Pizza Hut, it will depend on the consumer. It has suffered more than Telepizza for depending more on the consumer and it is more unknown. A key market will be Mexico. We have 250 stores there and the main rival has 800. The potential is unlimited, and there the Pizza Hut brand is very important. There is also a lot of space in Colombia.
We have the margin to open 100 Telepizza stores in Spain. And the potential we have in Mexico is unlimited
Do they have room to develop new formats or acquisitions?
As we have divested in some markets, if opportunities that add value arise, we will study all the options. Right now there is nothing on the table. We are focused on refounding the business and digital transformation. But we look at opportunities. Nor do we rule out developing focused formats for delivery. We are testing some things, but no dark kitchens.
Does the digital transformation seek not to depend on aggregators?
It seeks to respond to what the consumer wants: faster, easier, and fewer steps to order. When you don't have a technological platform adapted to that, you realize that if you want to compete with the aggregators we have to accelerate that process. We have to strengthen our own app and our own system, something that we will complete in 2022.
What is the will to stay of the first shareholder, KKR?
The usual horizon for the funds is between three and five years. KKR has contributed funds again in the last year, so its horizon remains medium-long term. There is total stability in the board and a willingness to grow in the markets. The horizon is stable, with capital to face the horizon that we have. There is no turbulence. All shareholders are aligned with the new plan.
Pablo Juantegui no longer fit?
It has been 22 years. It has been decided to start a new chapter and, after the transition, it has been agreed to separate the paths naturally.