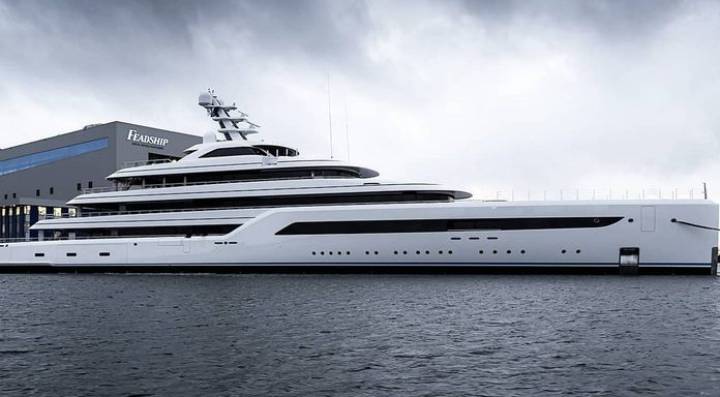 Jack Ma, the founder of Alibaba and one of the world's greatest fortunes, is spending a few days in Spain. Information has been published by El Diario de Mallorca and by the South China Morning Post, owned by Ma's business conglomerate. It is the first time Ma has left China in a year, a stage marked by Beijing's crusade to control growth and the influence of tech giants such as Alibaba itself or Ant Financial Group.
Alibaba shares have risen 9%, interpreting the trip as a de-escalation in the tensions between Ma and the government. Beijing blocked Ant Group's IPO shortly after Ma criticized the country's financial regulation in a speech. Since then Ma had not left China, when so far he spent a third of his time outside the country. Alibaba shares have risen sharply on the news.
According to the South China Morning Post, Ma would be in Spain "for a technology study circuit related to environmental issues." However, both Diario de Mallorca and the Financial Times report that Ma arrived this weekend from China and that his ship, the Zen, has landed in Andratx after spending a few days in Ibiza.
The Zen is an 88-meter-long megayacht valued at 170 million euros, according to another Chinese publication, The Standard. According to this newspaper, Ma would have flown to Spain accompanied by some friends and business partners. Before that he spent time in Hong Kong attending business and social gatherings.
https://www.instagram.com/p/CUVixGaLN06/?utm_source=ig_embed&ig_rid=86fecda1-3343-42f3-a17b-2a0c10dd396d
The Chinese government, which allowed the unbridled growth of the country's large technology companies, began a crusade last year to control the power of this sector. Ma, who managed to become the richest man in China after elevating his conglomerate to the category of giant, has been "missing" for months after he delivered a controversial speech in October last year in which he was critical of Beijing's strategy. to minimize risks in the financial system.
Soon after, Chinese regulators suspended the IPO of Ant Group, Alibaba's fintech, under the protection of more restrictive regulations for the sector that forced the restructuring of the group. Its IPO for 31,000 million, which was expected for November, would have been the largest in history. For its part, Alibaba was fined a record 2.5 billion euros for abuse of power, and Ant Financial was forced to restructure its organization to separate businesses and mitigate risk. In parallel, Beijing has applied activity restrictions to both financial and entertainment firms.
After this episode, Ma stopped appearing in public until, at the end of January 2021, she recorded a speech to greet the winners of an award given by her foundation. In the first public appearance after the clash, in January, he indicated that he was determined to dedicate himself to education and well-being. A few weeks ago, Alibaba announced that it would dedicate $ 13 billion to the government's plan to reduce inequality and achieve "common prosperity." This "comeback" curbed speculation about his whereabouts after friction with Beijing, but since then the mogul has opted for a low profile with few public appearances.