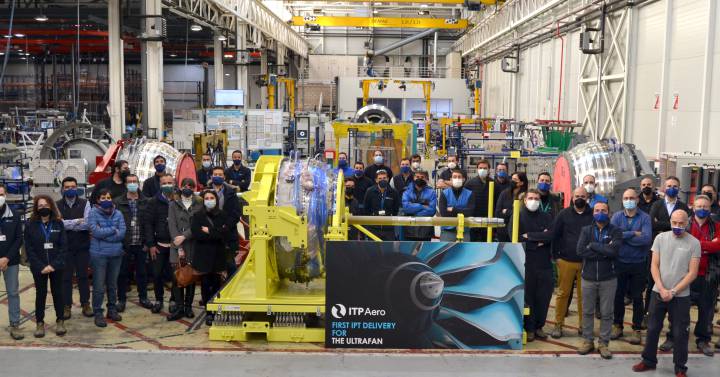 Milestone in the industrial history of ITP Aero, with a history of more than a quarter of a century in the aeronautical sector. The component manufacturer has delivered the first intermediate pressure turbine (IPT) that will equip the family of motors UltraFan of Rolls-Royce.
ITP Aero has carried out the entire process. From the design and manufacturing in the Zamudio center (Bizkaia) to the subsequent assembly in the Ajalvir facilities (Madrid). The next step will be its export to the Rolls-Royce complex in Derby (England). There it will be integrated into the engine UltraFan and the testing phase will begin in the coming weeks, which will be carried out with 100% sustainable aviation fuel.
The UltraFan will be 25% more fuel efficient than aero engines Trent Rolls-Royce now in operation. It can power both single-aisle and twin-aisle aircraft. ITP Aero, with 4,300 workers, has changed hands. Its previous 100% shareholder, precisely Rolls-Royce, has sold the company to the Bain Capital fund and other investors such as SAPA. The capital of the Zamudio-based company remains open to the entry of new groups.
In the divestment, Rolls-Royce has already announced that it would continue its commercial and industrial relationship with ITP Aero, which is one of its main suppliers, especially of low pressure turbines.
.