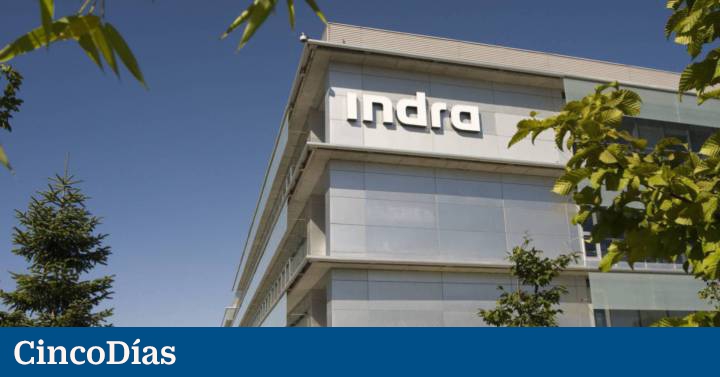 Indra closed 2021 with a profit of 143 million euros, after losing 65 million in 2020, which represents a growth of 18% compared to 2019, before the crisis. Its income rose 11.4% in reported terms, to 3,390 million euros. The company's sales rose both in the Transport and Defense division (12.3%), where revenues were 1,257 million, thanks to the good performance of Spain, Europe and Azerbaijan and Saudi Arabia, as well as in Minsait, where the figure grew by 10.9% to 2,133 million. In this division, the strong growth of the verticals of public administrations and health and energy and industry stood out.
"The results of 2021 can be considered historic, since we have reached record levels in Indra, both in portfolio and in income and cash generation, and all this in a pandemic environment that has not yet been completely overcome", Cristina Ruiz pointed out. and Ignacio Mataix, CEOs of the technology company. The directors also recall that during the past year they revised upwards the annual objectives on two occasions and "we have finally ended up surpassing them with ease".
Ruiz and Mataix defend in a statement sent to the CNMV that Indra's commercial moment continues to be very positive. In this sense, they highlight that they closed 2021 with a record order book that exceeds 5,450 million euros (4.4% more) and assure that they face the current year with great demand in all their businesses, due to the economic recovery expected in the main geographies in which they operate. The portfolio of the Transport and Defense division amounted to 3,859 million (6% more), highlighting Defense and Security with 2,441 million. For its part, Minsait's portfolio, of 1,600 million, grew by 1%. The portfolio-to-sales ratio for the last 12 months stood at 1.61 times compared to 1.72 times in 2020.
Net hiring last year fell by 4%. In the Transportation and Defense division, it fell by 15%, due to the strong contracting registered in 2020. In Minsait, however, it grew by 6%, driven by growth in all verticals, except telecoms and media, due to the renewals of certain relevant multi-year contracts that took place the previous year. Particularly noteworthy was the double-digit growth recorded in energy and industry, driven by Europe and Spain and for the inorganic contribution of SmartPaper, a company that Indra acquired on December 31, 2020, and which began to be consolidated in the income statement as of 2021.
The gross operating result (Ebitda) was 349 million compared to 77 million a year earlier, and the Ebit reached a positive 256 million compared to a negative 33 million in 2020, which is 16% more than in 2019. Operating margin was 284 million compared to 168 million in 2020 and 257 million in 2019 (equivalent to a margin of 8.4% in 2021 compared to 5.5% in 2020 and 8% in 2019), mainly due to the improvement in profitability in both divisions, as well as the lower amortization compared to the same period of the previous year.
Indra's accounts for last year include the sale of its facilities in the Aegean Sea, in San Fernando de Henares (Madrid), to XData Properties in the third quarter, an operation that generated capital gains of 17 million and represented an entry in each of 40 million. At the end of 2021, Indra launched a new real estate efficiency plan (mainly focused on Minsait) in addition to the transformation plan announced in 2020, which led it to make a provision of 7 million in the fourth quarter, with a savings target expected annual increase of more than 11.5 million euros from 2023 onwards.
The exchange rate subtracted 41 million from 2021 revenues, mainly due to the depreciation of Latin American currencies. Organic revenue, excluding the contribution from SmartPaper, which had annual sales of 36 million, and the effect of foreign exchange, rose 11%.
The cash generated in 2021 reached its historical maximum with 289 million, "which allows to reduce the net debt, both in absolute value and in multiple of EBITDA, to levels not seen in more than ten years and return to the payment of dividend", indicate Ruiz and Mataix. Last October 26, Indra's Board of Directors agreed to resume the payment of dividends and submit to the shareholders' meeting the distribution of a cash dividend of 0.15 euros per share, payable in July 2022.
The company's net debt was reduced to 240 million compared to 481 million a year earlier. The net debt/ebitda ratio for the last 12 months (excluding the IFRS 16 impact, the capital gain from the sale of the facilities and the provision of the real estate plan) stood at 0.8 times in December 2021 compared to 2. 5 times in 2020.
The restructuring costs of the workforce that are not part of the action plan were 17 million last year compared to 33 million in 2020. At the end of 2021, Indra's workforce was 52,084 employees, 6.2% more than past year. The increase has been concentrated in America (2,046 employees) and in Spain (938).
The company, chaired by Marc Murtra, expects to obtain revenues in local currency of more than 3,550 million in 2022, with a reported EBIT of more than 270 million and free cash flow of more than 170 million.
The good results reaped by Indra have not prevented it from falling on the stock market today more than 9%, after it was known yesterday that the Council of Ministers authorized SEPI to purchase an additional 10% of Indra's capital, which would increase its stake to 28%. Investors reacted with strong sales while some analysts, such as Renta4, expressed misgivings about the operation. This investment firm assures that, although it believes that the greater control of the Government could translate into the achievement of new contracts (mainly in defense), they consider the news negative from the point of view of "governance". In his opinion, this operation could translate into greater control of the company's Board by the Government, something "negative", since it could cause a shift in Indra's strategy. "The Government is interested in Indra participating in a consortium to enter the capital of ITP Aero, an entity that we believe would not add value to Indra," adds Renta4.
Something similar is the opinion of the Mirabaud analysts, who also highlight "the risk that a political agenda prevails over normal business conditions." However, Bankinter has upgraded its advice from "sell" to "buy", as it believes that this movement by SEPI "will increase the group's link to the Government's strategy in the defense market". The entity added that it considers that the increase in the participation of the public entity "must go through purchases of shares in the market (it has few shareholders with relevant packages) and it is foreseeable that the purchase of such a high package of shares could have an impact on significant market