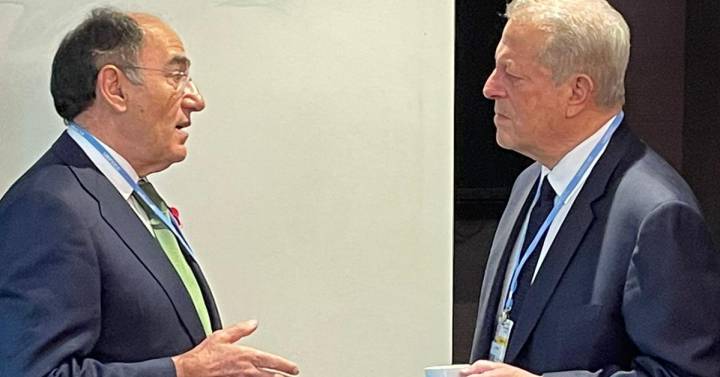 Urgency. This is the message that the president of Iberdrola, Ignacio Sánchez Galán, conveyed this Thursday to the former vice president of the United States and Nobel Peace Prize winner, Al Gore, for his involvement against climate change, in their meeting held within the framework of the Summit Climate World Cup (COP26) in Glasgow. "We have to do everything we can in this decade, we must be very ambitious and the time is now. There is no time left and it is everyone's job. We must reinforce the work of recent years so that it translates into well-being and jobs for citizens, "he said.
During the Climate Summit meeting focused on accelerating the global transition to clean energy, the president of Iberdrola insisted on the need to "shut down coal completely and demolish those plants." "Otherwise, when we have short-term market problems, there will always be a temptation to get them back on track. Coal has no place in a modern energy system, "he added.
Zero carbon
Galán assured that "we must put all resources in zero carbon technologies, not dedicate them to technologies that will have a short life. We should not think low carbon, but zero carbon. And we must do so taking into account the social dimension of the transition in our analysis. Otherwise, we will have failed ", he stressed.
In line with its commitment to decarbonisation, Iberdrola has completed the closure of the Lada (Asturias) and Velilla (Palencia) thermal power plants, culminating a process started in 2001 that has led to the closure of 17 coal and fuel oil power plants.