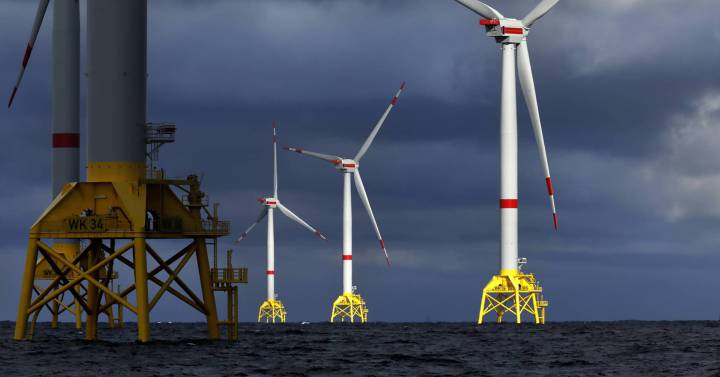 Iberdrola continues with its plans for offshore wind. The group chaired by Ignacio Galán has activated its third project in the Baltic Sea. It will invest 800 million in the Windanker complex, in German jurisdictional waters.
The renewable complex will come into operation in 2026 to generate 300 MW that will be sold through long-term contracts in the German market. Windanker will have state-of-the-art turbines, with a unit capacity of 15 MW.
Iberdrola's renewable energy hub in the Baltic is located entirely off the coast of Germany.
The first offshore complex that came into operation almost five years ago was that of Wikinger (350 MW of capacity). Now it is building the Baltic Eagle wind farm (476 MW). In total, 1,126 MW of long-term installed capacity after a global investment of 3,500 million.
Germany wants to have 20,000 MW of offshore wind capacity by 2030. Berlin can even revise this objective upwards after the German authorities set this past spring that the country must reduce its CO2 emissions by 65% ​​by 2030.
A percentage higher than the initial plan and that will rise to 88% in 2040, to consolidate climate neutrality in 2045, five years ahead of the initial commitment.
Iberdrola has highlighted that German regulations "are characterized by their stability and predictability". What generates "a framework of trust" for promoters of renewables. In Spain, Ignacio Galán has criticized on several occasions the legislative changes in the field of energy by the Government of Pedro Sánchez
The multinational electricity company has offshore projects in its portfolio totaling 38,000 MW. In addition to Wikinger in Germany, it has two other offshore wind complexes in operation, both in UK waters. All three produce 1,300 MW.
In construction
Its projects in this field also extend to the United States, France, Sweden, Poland and Denmark.
The most advanced works for the forthcoming commissioning of new complexes correspond to the aforementioned Baltic Eagle complex and that of St. Brieuc in French waters, in the Brittany area. These two would contribute another 1,000 MW.
On the other hand, the Bilbao-based multinational continues to gain market share in long-term supplies (called PPAs) from renewable sources. It has already signed service contracts with fifty companies. Among them, Google, Amazon, Apple, Facebook and Microsoft. These orders add up to the supply of 4,000 MW to groups in the United States, Spain, Mexico, Brazil, the United Kingdom and Australia.
Iberdrola entered the PPA market through its subsidiary Avangrid in the United States, where it has already subscribed this service with a dozen North American corporations, such as the aforementioned big tech. In Spain, the electricity company has recently signed an agreement with the multinational Danone.