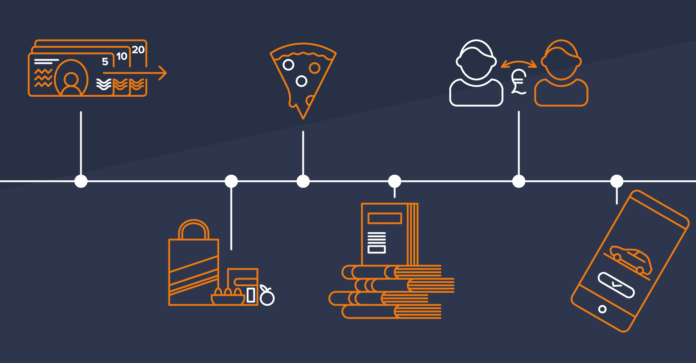 From ordering cornflakes to making billions, discover the milestones in the brief history of online payments
Once upon a time, money lived in the bank. When you wanted to buy something, you asked the teller to be so kind as to hand over some of your cash. If you were a woman, you had to ask your husband to get the money out for you. It wasn't until the 1960s in the US and 1975 in the UK when women were allowed to have their own bank account. You took your money to the store, paid for the thing you wanted, and received your change – and your receipt might even be hand-written.
Fast forward in time to 2020, and it's a completely different world. People have moved from cash payments and checkbooks to online payments – securely exchanging currency for goods and services over the internet, in real-time. Cash seems archaic to many younger consumers.
For businesses, online payments not only translate to increased efficiency and productivity, but they also offer new opportunities. Online payments have opened up international trade to tens of thousands of companies and allowed innovative startups to make a real impact on the retail industry.
Below, we share the highlights from the history of online payments.
Online payments: The firsts
The first money transfer
As a telegraph business, Western Union understood what people wanted and facilitated the first C2C (customer-to-customer) money transfer in 1871 – paving the way for increasingly easier, long-distance transactions. Jump to 2011 and Western Union launches their app enabling money transfers from mobile.
The first online shopper
In 1984, Jane Snowball, aged 72 and stuck at home, did the world's first online shop, ordering cornflakes, margarine, and eggs. She used a remote control and Videotex on her TV. It sent the order down a phone line to her local supermarket who delivered it, and she paid in cash. That's because online payments had to wait for Tim Berners-Lee to invent the world wide web.
The first online order
The first online order seems to have been for pizza in 1994 when Pizza Hut launched Pizzanet.net. What toppings did they order? Pepperoni, mushroom, and extra cheese. By 2008, Pizza Hut's PizzaNet online sales reached $1 billion and by 2013, they surpassed $6 billion.
The first online bookstore
In Frontline's film Amazon Empire: Rise and Reign of Jeff Bezos, Brad Stone, the author of The Everything Store said, "The reaction to Jeff's idea to start selling books on the internet was pretty incredulous from a lot of the people close to him. His mom tried to convince him to just do it at night or over the weekends; she didn't want to see him give up his job."
However, Jeff Bezos had seen a stat that web usage was growing at 2,300% a year. In July 1995, barely a year after the first pizza was ordered online, Amazon was launched as an online bookstore, adding music and videos in 1998. He pursued CX, or customer ecstasy, and gave us innovations like 1-click purchase and Prime delivery at a time when checking out online was often miserable. Complicated forms and lines disconnecting mid-transaction often drove people to pick up the phone or get in a car. Anybody who made purchases faster, easier, and more secure would be a winner.
By December 2019, an estimated 112 million Amazon Prime subscribers in the US were spending an average of $1,400 every year compared to an average of $600 spent by non-Prime members.
Making life easier
Say and pay
Voice-activated payments are taking off, where the only remaining point of physical contact is opening the door when the delivery truck pulls up. A 2020 study looking at changes in shopping behavior found that 23 million US consumers who own voice-activated speakers are now using them to make purchases.
Person2person payment
'How do we send each other money directly?' That's what Andrew Kortina and Iqram Magdon-Ismail asked when they wanted to split a bill and exclude the bank. They launched an app in 2009 and called it Venmo. The app was so obviously useful that it wasn't long before large organizations, including tech-focused banks, joined in to make it easier to transfer money to friends via services such as Apple Pay, Google Pay, Zelle, Cash App, Metal Pay, PayPal, and more.
Small businesses can play too
Online payment had been the preserve of big players such as eBay that had the capital to develop and invest in online, but payment inclusivity for small businesses was always going to be critical for consumer choice and economic growth.
In Europe in 2013, small and medium-sized enterprises (SMEs) accounted for 99% of enterprises, 92% of which were micro-enterprises. These SMEs also provided two-thirds of private-sector employment.
In 2011, iZettle was launched in Sweden, making it possible for small businesses to accept card payment easily and economically. At the time, its main rival was Square, but after iZettle's purchase by PayPal for $2.2 billion in 2018, iZettle became the market leader.
Honey saves you money
In 2019, price comparison web browser extension, Honey, helped its users to save over $1 billion when they shopped online, by automatically applying deals. For businesses, Honey and other online discount intermediaries acted as a neat replacement for the newspaper vouchers that once acted as a marketing staple for retailers.
Honey was also bought by online payment pioneers, PayPal, this time for $4 billion in 2020.
Making payments faster
Pay on the move
Domino's embraced digital transformation and called themselves an ecommerce business that happens to sell pizza, stealing world domination from Pizza Hut. They became the first pizza company to launch an online tracker and voice-ordering app. In 2018, over 50% of their sales were placed on mobile devices, and their One-Tap feature allows mobile customers to easily make repeat orders.
Buy your Tesla online
Forget car dealerships. Elon Musk, The Great Disruptor, has decided online is the only way to buy a Tesla. It fits in with the way Tesla sees cars: as a software product that can be updated, just like a phone. If you're considering buying a Tesla, the view is that you're already convinced. Order it online, without a salesman at your elbow, and you'll be driving it in no time. Not only is this great for consumers, but it also saves Tesla money on dealership negotiations and distribution.
Consumers are increasingly trusting themselves to buy even big-ticket items such as cars without a test drive or seeing it in the flesh – 27% of British consumers in 2019 said they would. Changing attitudes enabled by online payment is bad news for city centers that rely on the in-person shopping experience, but it's good news for savvy businesses already embracing online payments.
Follow the money
You only have to look at the numbers in PayPal's 2019 Global Impact Report to see the appetite for online payments:
$17.8 billion revenue, up 15% from 2018

305 million active accounts, up 14% from 2018

12.4 billion transactions, up an astounding 25% from 2018
Worldwide, the total transaction value in the Digital Payments segment is projected to reach $4.9 million by the end of 2020. This is a 23.7% increase year on year, with the highest cumulated transaction value in China projected at $2.3 million in 2020.
According to the European Central Bank, the total number of non-cash payments in the Euro area rose to 98 billion in 2019, an increase of 8.1% compared to 2018, with a total value of €162.1 trillion.
In 2020, COVID-19 has accelerated the trend of online payments, with customers prioritizing internet shopping and contactless options over physical contact with cash.
Crime and politics
Where there is money, there is crime. As such, cybersecurity systems worldwide are innovating constantly to hinder criminals and enable businesses to accept online payments. Pursuing innovation is worth it. When chip-and-PIN was launched in the UK, it cut card fraud by 13% in 2005. In tandem with secure systems, the constant review of organizational policies and compliant processes goes a long way towards keeping customer information secure.
---
Further reading: How to ensure the safety of online transactions for your business
---
Customer trust in payment systems is paramount, making security and efficiency of payments a political priority as well as a commercial one. In 2013, card-not-present fraud accounted for 66% of the €1.44 billion of fraudulent transactions in the Single Euro Payments Area (SEPA). The sheer scale confirms why cybercrime is a priority for Europol under the 2018-2021 EU Policy Cycle.
The European Payments Council is also driving the harmonization of electronic payments with the SEPA Instant Credit Transfer Scheme, in an area of 529 million citizens across 36 countries, actioning 146 billion electronic payments every year.