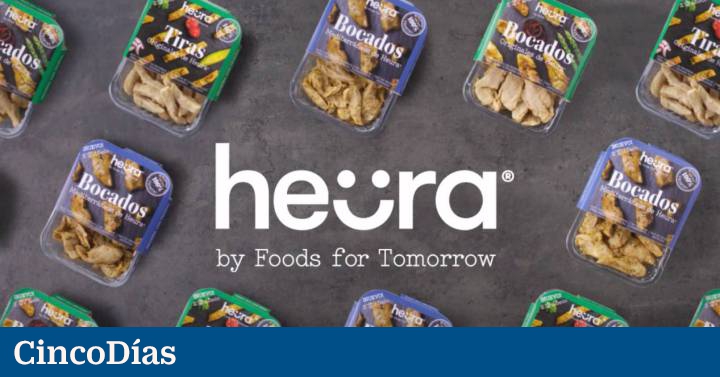 Heura, the emerging company that produces 100% plant-based meat, plans to double its 2021 turnover this year, when it entered 17.7 million, and is finalizing a change of headquarters in Barcelona, ​​probably to [email protected], to respond to its growth, not only in sales, but also in personnel. This is how he explained it in an interview with Efe the CEO and co-founder of the company Marc Colomawhich has detailed that Heura currently employs about 130 people, that it plans to "exceed 200 employees by the end of this year" and that it contemplates a significant increase in the workforce also in 2023.
Precisely Heura has just closed a collective microfinancing campaign that has allowed it to raise more than 4 millionsome resources that the company will allocate to increase the workforce, to build the Heura Lab 2.0 and to expand its international presence reaching new supermarkets and distributors.
Regarding the evolution of the business, Heura achieved sales of 17.7 million euros in 2021, compared to 8 million in 2020. "Our ambition is to continue growing at least triple digits this year", which implies that Heura wants to double in 2022 the sales volume that it achieved in 2021. Heura obtains "the majority" of its turnover in Spain, although it intends to "lead the protein transition in Europe"has explained.
The company currently distributes its products in 14,000 points of sale in 20 countries around the world, including Spain, Portugal, France, the Netherlands, the United Kingdom, Belgium, Italy, Poland, Sweden, Canada, Mexico and Chile. Heura aspires both to improve its implementation in countries such as France, the United Kingdom or Italy and to enter new European markets where it is not yet present, such as Germany, says Coloma.
Founded in April 2017, Heura is a start-up that has nothing to do with your usual food company, since its founders, Marc Coloma and Bernat Añaños, openly present themselves as activists of the protein transition, that is, they seek to stop consuming meat of animal origin. "We are not an alternative to meat, but successors, because we not only replicate the sensory experience but also improve the nutritional values," Coloma assured.
Currently, Heura has outsourced production – it has "more than six industrial partners", including meat manufacturers -, and most of its products are manufactured in Spain. On the other hand, Heura does not currently contemplate going public. "Currently we are finding long-term travel companions in institutional funds, and taking the company public today could generate pressure in the short term," Coloma believes.