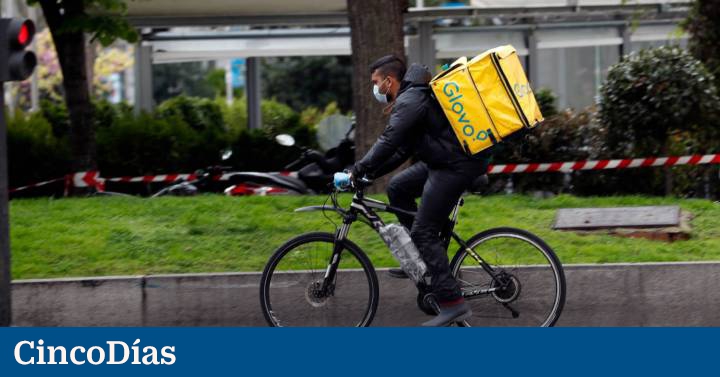 Glovo, the Spanish home delivery startup Already present in more than 870 cities in 23 countries around the world, it doubled its income in its financial year 2020, as reported today by the company itself, which last year set an investment plan focused on three strategic areas: international expansion, new business units and attraction of technological talent. The company had a global turnover of 360 million euros compared to 128 million in 2019.
The assets of the multinational, which since last August is adjusting its business model in Spain by the law of riders, reached 390 million euros, multiplying by two the value of 2019, which stood at 192 million. The consolidated result for the year ended with losses of 51.4 million, far from the 238.5 million euros for the year 2019. This figure, which represents a cut of almost 80%, takes into account the sale to Delivery Hero of its Latin American business in September 2020 for 230 million euros.
Glovo has also significantly improved its operating margins. It ensures that it has been operationally profitable in most of its markets, such as Spain and Italy, generating a positive global operating margin since mid-2020.
In terms of international expansion, Glovo launched in 2020 more than 400 new cities and 3 countries globally. "Thanks to this investment and consolidation policy, Glovo has positioned itself as a market leader in 14 of the 23 countries in which it operates," they say from the company. Currently in Spain it is present in almost 400 cities.
The company, which maintains its central office and fiscal headquarters in Barcelona, ​​hired 934 new employees during 2020 and reached 1,221 employees globally, with personnel costs that grew by 8.5% to 94.53 million euros compared to 2019. Currently, 2,657 employees are part of Glovo. The startup announced last July that was going to hire 2,000 delivery men in Spain before the end of this year to adapt its operations to the new law of riders.
Since last August, the company has faced protests from its self-employed distributors, as they consider that with the change in the company's algorithm to comply with the Riders Law, they are earning less. The delivery men who work for Glovo supermarkets in Barcelona have also gone on strike to denounce the precariousness of the platform economy.
The startup bet heavily during the last fiscal year on the Quick Commerce, a new business unit that has its own warehouses located within the city that serve the Glovo Express convenience supermarket, an online supermarket open 7 days a week, with an ultra-fast delivery time, with no minimum purchase.
The company accelerated this activity after raising 450 million euros in April last year in an operation led by US funds Lugard Road Capital and Luxor Capital Group. His objective, as he explained then its co-founder and CEO, Óscar Pierre.
Glovo recalls a study done in 2020 on the socioeconomic impact of its activity carried out by Crowe that concluded that the group it had indirectly contributed to creating around 26,918 jobs. Likewise, it was calculated that the Glovo ecosystem has generated an economic impact of 2,252.2 million euros.
Agreement with C&A
Beyond its economic results, the delivery company has sealed an agreement with C&A to extend ultra-fast deliveries, in less than 30 minutes, to the fashion sector in Spain and Portugal, as the textile company has made public today.
With this pioneering agreement, Glovo users will be able to buy and receive the clothing firm's products in selected cities, where and when they want, within 30 minutes.
The C&A store in Glovo will be available in 13 cities with service from 16 stores, ten of them in Spain: C&A Mataró Parc (Mataró), C&A Bravo Murillo (Madrid), C&A Los Patios (Malaga), C&A Nuevo Centro (Valencia) , C&A Plaza Joan Carles I (Palma de Mallorca), C&A Pelayo (Barcelona), C&A Parquesur (Leganés), C&A Islazul (Madrid), C&A Avenida de Independencia (Zaragoza), C&A Tetuán (Seville), and the other six in Portugal , reports Europa Press.
Among the 500 C&A references are fashion and accessories for women, children and men, such as t-shirts, cardigans, pants, leggings, sweaters, denim, polo shirts, shorts, pajamas, underwear; as well as bodys or combinable multipacks for the little ones, among others.
The alliance allows Glovo to continue expanding its multi-category offering. After consolidating itself in the food delivery sector, the company wants users to find everything they are looking for on its platform.
The general director of Glovo in Iberia, Diego Nouet, has highlighted that this alliance is a "milestone" for the company. "Now we bring ultra-fast deliveries to the fashion sector. We have already become accustomed to buying almost any product online, but we also want to have the option of buying it and being able to receive it in a few minutes at home," he said.
"Fashion is also a priority for many people and that is why we must attend to it as such. Glovo is a company with which we share the goal of always looking for options for a quick and easy shopping experience," he explained. the general director of C&A for Spain and Portugal, Domingos Esteves.
This new Glovo agreement is part of Quick Commerce's (Q-commerce) commitment to growth and innovation, promoting alliances with chains from both retail, distribution, food and local shops in order to provide customers with a complete multi-category offer, such as supermarket products, electronics, toys, beauty, fashion, among others.
.