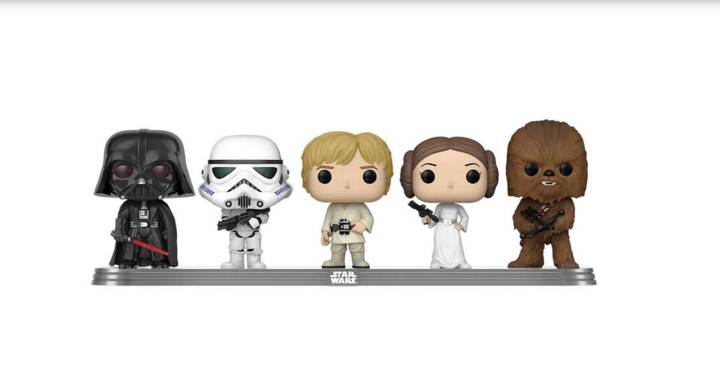 A group of prominent investors from the world of entertainment, including Peter Chernin and former Walt Disney president Bob Iger, as well as eBay, have invested 263 million dollars (249 million euros) in the toy company Funko, owner of the big-headed dolls. of the same name that imitate relevant characters from series, movies, comics or video games.
The Chernin group leads an investment group that has bought a 25% stake in Funko at $21 a share from proprietary venture capital fund Acon Investments. They have paid a 23% premium over the closing price on May 3.
As part of the agreement, eBay will become the leading platform for the sale of Funko products, and the two companies will also collaborate on exclusive new product launches. In addition, the investment group will have the right to appoint two directors, while Chernin and Iger will act as advisers to the board.
Chernin and his partners believe that Funko Pop dolls can be the foundation of a global entertainment company spanning film, television and live events. The company licenses the rights to popular characters from other studios, but can develop its properties into entertainment franchises, as Lego did in The Lego Movie with Warner Bros. Chernin has turned another of its investments – the Exploding Kittens card game – into a TV show and a mobile game with Netflix.
Chernin believes that Funko has a strong and recognizable brand among consumers and is trading at a relatively cheap price. The stock has lost more than a third of its value since its peak last May, despite revenue growth it posted last year, and even far outpaced that of Hasbro and Mattel, the two largest toy companies in the United States. Joined.
Own sales channels
Funko sells more than 10% of its products through its own channels, outside of major retailers like Amazon.com and Walmart Inc. Its sales doubled from 2017 to 2021, topping $1 billion last year.
Details of the transaction were released by Funko last week. Founded in 1998, Everett, Washington-based Funko is known for its oversized dolls and figures featuring the likes of Darth Vader and Spider-Man. While there are hundreds of Funko dolls based on characters from movies and TV, there are fewer music or sports. Sports agent Rich Paul, whose roster includes LeBron James, can help in that area.
Following the closing of the transaction, The Chernin Group and its consortium, which includes eBay, former Disney chairman Bob Iger and Rich Paul, founder of Klutch Sports and head of sports for United Talent Agency, will own 25% of the company, according to the notice.
Gibson, Dunn & Crutcher advises The Chernin Group, while Winston & Strawn advises the selling firm, venture capital group Acon Investments. For its part, Latham & Watkins advises Funko.
Comings and goings of the action of the toy store
Rise. Funko's share rose 26% last Friday after learning of the purchase of a stake in the company, in an operation led by Chernin and other investors.
Quote. Funko shares are trading around $21, the price offered by the consortium to acquire 25% of the capital. Still, the price is far from the $31 it was trading at in September 2018. During the pandemic, the company's shares hit a low of $3.18.
Support. Chernin is an investment firm known for supporting media, business and technology start-ups. The investment will be operated through the purchase of 12.5 million Funko class A shares from the venture capital group Acon Investments.
Growth. The company grew its revenue by 58%, to exceed $1 billion in 2021. In the first quarter of 2022, Funko had revenue of $308 million, an increase of 63% from the previous year. Funko's adjusted EBITDA increased 87% to $150 million in 2021 and grew 22% in the first quarter of 2022.
Variety. Funko Pop has characters from series and movies, superheroes, villains, figures from the world of cinema, video games, animation or rock stars… From Harry Potter, Star Wars, Marvel, DC or the NBA with a size of about 9 centimeters, Although there are older models.