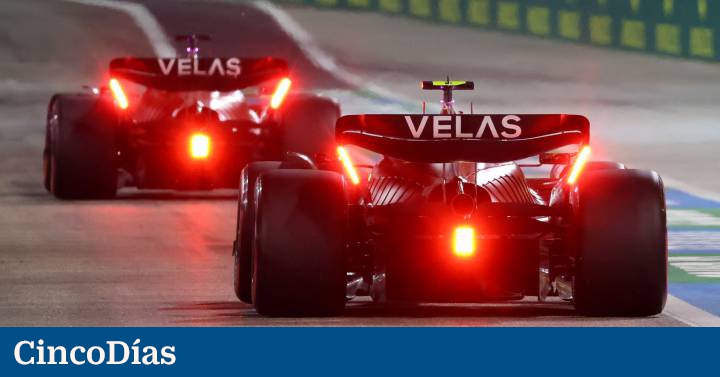 One month of March 20 years ago, the Formula 1 World Championship was launched with a total of 11 teams. Of these, seven had tobacco or alcohol companies among their main sponsors. Especially the first, financial support for decades of the Great Circus, until the laws were expelling them from sports sponsorships.
Today, 20 years later, the World Cup has a residual trace of tobacco groups [solo BAT en McLaren, con sus vapeadores y cigarrillos electrónicos Vuse, tras la salida de Philip Morris de Ferrari] and an abundance of sponsors unknown to the general public: names like Candles, FTX, Tibco, Tezos, BybitFloki or Binance today have a presence in the cars, consolidating the invasion of firms linked to the digital economy.
The most obvious case is that of cryptocurrency platforms. All the teams, except two, have at least one of them among their commercial allies. Also the World Cup itself, which last year signed the Crypto.com trading platform as an official sponsor for five years and 100 million dollars. This is also a sponsor of the Aston Martin team and the new Miami Grand Prix, to which it will give its name for nine years.
It is not accidental. According to Nielsen, sports sponsorship deals from blockchain, crypto, or NFT firms have grown 1,100% between 2019 and 2021. And by 2026, they will reach a value of $5 billion.
In the field of F1, Binance, the largest firm of its kind with more than 80 million users, has joined Alpine's list of sponsors this year. The Swiss Velas has also signed with Ferrari, Tezos with McLaren, or the Floki cryptocurrency with Alfa Romeo. Last year they did FTX with Mercedes, Tezos itself with Red Bull, Fantom with Alpha Tauri or Socios.com with Alfa Romeo.
But these agreements are not only based on showing the stickers of the companies in question on the cars. With the aim of maximizing income for both sides, the parties design and launch financial products with the idea of ​​further involving fans in the day-to-day running of the teams.
Binance launched the Alpine fan token last February; Tezos is a collection of Red Bull NFTs, and Ferrari has already announced that it will develop digital products with Velas.
As the Nielsen report explains, the future presence of these platforms in sports will depend on two factors: the attraction of fans and their legitimacy. In other words, the same thing does not happen with sports betting. "In the long term, it will be essential that companies do their research properly and that income does not prevent their correct evaluation," says the consultancy
Some team has already suffered negative effects. McLaren canceled its multi-year contract with the Turkish Bitci in February, which has had problems dealing with the multiple sports sponsorships it has signed; and also terminated with Iqoniq, another cryptocurrency platform that went into liquidation in January.
But not only crypto lives Formula 1. Cybersecurity firms are also becoming strong: Crowdstrike in Mercedes; Arctic Wolf at Red Bull; Mandiant at Alpine, and Symantec at Williams. Also services in the cloud: AWS with Ferarri, or Oracle in Red Bull; or even software firms driven by teleworking: Citrix, Juniper or Webex, among others, also have a presence in cars.
Palantir, the controversial sponsor of Ferrari
Data. Ferrari, the most successful team in the history of Formula 1, has started the year with new spirits. Above all, with a double in the first race of the World Championship, in Bahrain, and with expectations of repeating victory in the Saudi Arabian Grand Prix this weekend. The Scudería has news regarding sponsorships. Above all, the departure of Philip Morris after decades of alliance and the return of Santander, which joins Estrella Galicia as a Spanish brand in the red single-seaters. These share space with more than twenty companies, including Palantir, an American technology company that has renewed its commitment to Ferrari.
Defending. This firm, specialized in data analysis, has been surrounded by controversy. Its founder is Peter Thiel, one of Donald Trump's great allies in Silicon Valley during his presidency, and much of his business is based on government contracts. For example, with the CIA, the Pentagon and the US Army, in this case with a contract for 823 million dollars signed last year. His knowledge in data analysis is now applied at Ferrari.
hiring. This firm is preparing its landing in Europe, including the opening of an office in Spain. As reported by Europa Press, Palantir is carrying out a staff recruitment process.