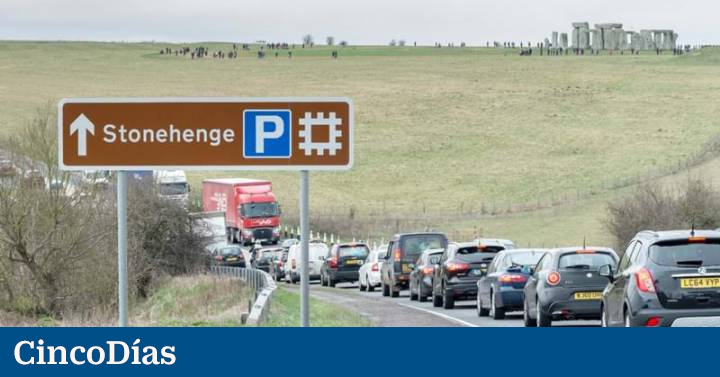 The project of an underground road a few meters from the megalithic monument of stonehengein the surroundings of Salisbury (United Kingdom), has signs of becoming an important work for the Spanish group FCC. A consortium led by the company Charles Slimin which are also WeBuild and BeMo Tunnelinghas been selected as preferred bidder for the contract for 1,250 million pounds (about 1,475 million euros) execution of the tunnel and the main works of the A303between Amesbury and Berwick Down.
The project, promoted by National Highwaysresponsible for the main English highways and roads, is pending the approval of the Secretary of State for Transport of the United Kingdom, which annulled the authorization order for its development and demanded in November information on the environmental impact of the designed infrastructure. However, National Highways has gone ahead with the construction contest to ensure compliance with the schedule once the permit has been obtained.
The consortium takes the Spanish as designers Sener and the British Jacobs and Atkins. The contract at stake includes the civil works, with the use of a tunnel boring machine, and the assembly of the electrical, mechanical and technological elements in the tunnel. The work on this highway will be carried out on a 12.8 kilometer route, in which the tunnel will be 3.2 kilometers long.
The maximum proximity to the monument dated between the end of the Neolithic and the beginning of the Bronze Age will be 50 meters, hence the delicacy of the work. The successful bidder, which will also carry out the bypass of the town of Winterbourne Stoke and junctions with the A345 and A360 highways, will have five year term to deliver the infrastructure. The promoter defends the need to eliminate the visual and acoustic impact of the A303 next to Stonehenge.
The project manager for National Highways, derek parody, has warned that the contract "will not be effective until the Secretary of State has completed the planning process." And he adds that "the announcement of a preferred bidder does not in any way anticipate any decision, and once the process is finished, and in the event that the Development Consent Order is granted, the fact of having a selected contractor will place us in the stronger position to carry out this transformation plan and deliver the benefits we know it can bring."
The contracts for preliminary archeology and habilitation work were announced in 2020, as part of a total budget of 1.7 billion pounds (2 billion euros). Wessex Archeology won the archaeological mitigation contract for 35 million pounds (41.5 million euros), and Octavius ​​Infrastructure (formerly Osborne) won the prize for the preliminary works for 8.5 million pounds (10 million euros).
Along with the order to which FCC aspires, National Highways has in its final phase the award of a delivery guarantee partner contract, for a maximum value of 60 million pounds (70.43 million euros).