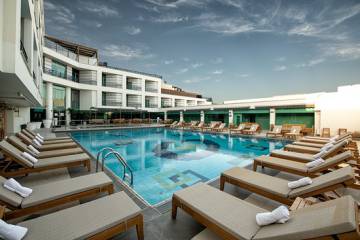 Fattal Hotel Group has signed an agreement with KKR and Dunas Capital to acquire six properties in the Balearic Islands, four hotels and two aparthotels, for a total of 165 million euros.
The transaction is expected to close in the second half of the year and will not impact reservations or the service offered to customers, according to the company in a press release. Leonardo Hotels, belonging to the Fattal Hotel Group, thus reinforces its commitment to the Spanish holiday segment.
The four hotels and two aparthotels, which are currently part of the Alua hotel chain, are located on the beachfront on the islands of Ibiza and Mallorca, with a four-star category.
The set of establishments adds up to a total of 1,119 rooms and offers services such as swimming pool, restaurant, bar, gym, family rooms or recreational facilities. In 2019, the average seasonal occupancy rates in hotels were approximately 92% and, after the relaxation of the measures implemented during the pandemic, occupancy rates have once again exceeded 74% on average in 2021.
With this operation, Fattal Hotel Group strengthens its commitment to belong to the company that will finance the transaction with a combination of its own funds, in addition to a loan of approximately 95 million euros.
The six hotel properties have benefited in recent years from more than 14 million euros of investment in the renovation and transformation of the establishments. In addition, the hotel group will invest an additional 20 million euros in improving facilities and services. Also, it is planned to change the nomenclature of the hotels, which will become part of the group's brands such as Leonardo, Leonardo Royal and NYX.