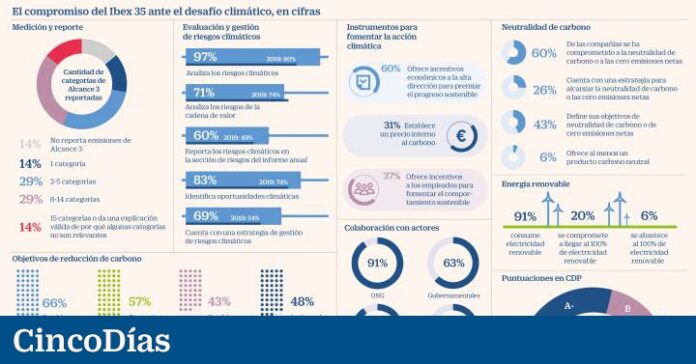 The energy companies of the Ibex 35 lead the incorporation of sustainability and climate change strategies in their business model and are benchmarks for the rest of the companies in the index.
They stand out in the evaluation and management of climate risks, the generation of renewable energy and in setting reduction targets validated by science. Their unfinished business is explaining how they will meet their commitment to zero net emissions in 2050 and control these throughout their supply chain.
These are the most relevant aspects of the Study of the state of reporting of sustainability of the Ibex 35 in its fifth edition, carried out by EcoAct, an international company specialized in consulting services and development of climate change projects.
"The energy sector is really leading the fight against climate change," says Cristina Raventós, director of EcoAct in Spain. In fact, seven of the ten companies in the top ten of this year's report are from that segment (Acciona, Iberdrola, Red Eléctrica, Naturgy, Enagás, Endesa and Repsol). The reason is because "they see this aspect as a strategic part to transform their business models, which is where it really shows that a company is betting heavily on this," he explains.
One of the points where they stand out the most is in "the reporting, identification and evaluation of climate risks," he argues. The selective companies that carry these impacts in their annual reports have increased from 49% to 60% compared to last year. In 2020, 97% have done this analysis and 71% have identified hazards in their value chain.
But where they have improved the most, according to the EcoAct director, is in "alignment with the recommendations of the Climate-Related Financial Disclosures (TCFD, for its acronym in English), especially in their risk reporting." 78% of energy companies use it as a management tool. These tips seek to provide consistent information to investors so that they understand the risks associated with climate change.
Raventós warns that what they lack is to "better explain" how they will meet the goal of reaching zero net emissions by 2050. "After the COP25 in Madrid there was an ambition and they made great commitments, which in many cases have remained there ", he says. In his opinion, "it has not been so clear in their reports what are the different levers that they are going to exert to achieve this objective."
Another pending issue is related to scope 3 emissions, those that occur in the supply chain and where a large part of the carbon footprint is usually generated. "Many of them are addressing it," says Raventós, but "it is important that they understand what their emissions profile is throughout their entire value chain, especially as it affects the products they put on the market", since there are many who do not know the real impact of their indirect emissions.
EcoAct advocates that these companies become tractors. They have large supply chains that they can "put pressure on and try to pass on their commitments to their suppliers."
An engine of change that they exert and that has led the Ibex 35 to improve its average score in the study by four points, 60% compared to 56% in 2019. However, these data hide a gap between these, the ones that push the most , with scores of 91%, and those that do it the least, which remain at a slightly commendable 19%. That is why it is essential that they are a model for other companies and for SMEs, and that the sustainability of businesses is thus achieved.
CaixaBank. The entity has starred in the biggest rise in 2020 in the top ten of the best companies of the Ibex 35, occupying the seventh position. The company, which is already carbon neutral, has committed to setting science-based targets (SBT) within two years.
BBVA. Participate in a project promoted by the Science-Based Objectives initiative (SBTi) to accompany financial institutions in the establishment of these goals. In 2020, it launched the Casa Eficiencia mortgage and the first card made with recycled plastic.