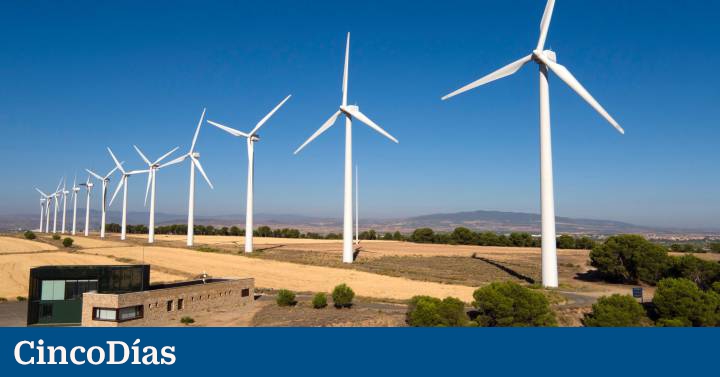 One of the relevant short-term projects in Elecnor's renewable energy portfolio, the construction of four wind farms in the region of The Ribera of NavarreIt already has the foundations to become a reality. the subsidiary Enerfin has obtained a loan of 136 million which covers a large part of the 157 million planned investment.
The financing comes from the Danish fund AIP Infrastructure IImanaged by AIP Management and whose investors include several Danish pension funds. The agreement with Enerfín constitutes the first operation of this investor in Spain after the recent opening of an office in Madrid.
From AIP Management, the managing partner kasper hansen has highlighted the "reputation and experience" of Enerfin as an ally to start in this country. "We are very excited about the future, since Spain is an attractive market in which we have a strategic approach to deploy capital for renewable energy projects through our flexible financing instrument", Hansen remarks.
Enerfín will manage the four parks in Navarra, with a total installed capacity of 139.2 megawatts (MW): El Montecillo (40.6 MW), Corral del Molino I (23.2 MW), Corral del Molino II (29 MW ) and Volandín (46.4 MW). Its annual production will reach 431 GWh, which is equivalent to the reduction of 32,000 tons of carbon dioxide per year.
Elecnor had requested permits from the Government of Navarra to set up five wind installations, taking four of them forward. The schedule for these projects foresees their commissioning in October 2023. This new wind generation is added to the 61 MW that Enerfín operates in the Navarrese town of Tudela (Montes del Cierzo park).
Non-recourse financing
The loan granted by AIP constitutes a non-recourse financing package for Elecnor. This is delivered through a long-term debt instrument and compatible with other sources of financing in the hands of the company.
For the CEO of Enerfin, Joseph Castellanosthe agreement with the Danish fund "shows the interest of investors in this type of project, infrastructures capable of producing resources in a sustainable way".
Elecnor's alternative energy arm has a stake in 1,227 MW of wind power already in operation in Spain, Brazil and Canada, where it produces 3,500 GWh per year (equivalent to supplying 1.5 million homes). Its portfolio under development multiplies that installed power by seven, up to 8.4 GW between projects in Spain, Australia, Canada, Mexico, Brazil, Colombia, Chile, Argentina and sub-Saharan Africa. Of this portfolio, 6.5 GW are gathered in wind projects and the other 1.9 GW are solar installations.
As reported to the CNMV, Elecnor has been searching for an investment partner to whom it will grant a relevant, albeit minority, stake in Enerfin since February, as reported to the CNMV. The bank that pilots the operation is Mediobanca and the market is speculating with a 100% valuation of around 1,000 million euros. The figure is above the 945 million capitalization of the group.
An EBITDA engine in renewables
Cost effectiveness. Elecnor's concessions contributed 167 million in revenue to the group in 2021, leaving a high performance of 131 million Ebitda. Of this last figure, 116 million euros came from Enerfín.
Twin operation. Elecnor's green subsidiary was created in 1997 and has a basket of 1,227 MW of wind power in operation. Enerfin foresees the commissioning of 286 MW by 2023, corresponding to assets in the construction phase, and the development of another 8 GW by 2030. This notable growth plan explains the opening of Enerfin's capital to a partner, as already Elecnor did in the Celeo case with the sale of 49% to the APG fund.