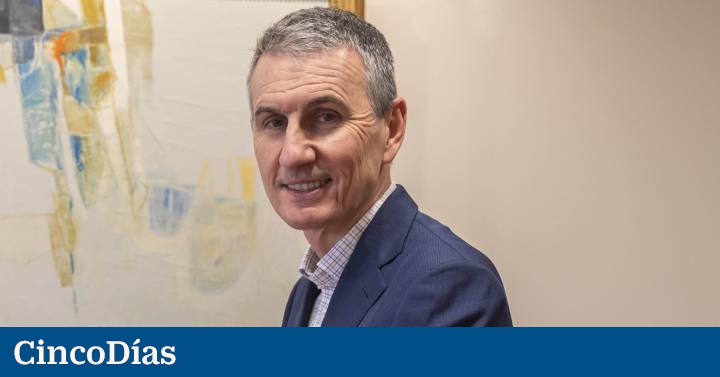 Clínica Baviera turns 30. The listed company, controlled since 2017 by Chinese shareholder Aier Eye Hospitalis in full growth period and its CEO, Edward Bavaria (Valencia, 1967) points out that it will continue to expand, especially abroad. The CEO is one of the founders of the company, along with his brother Julio, who retain 10% of the capital. This firm is focused on ophthalmology, fundamentally in refractive surgery.
The company's results, recently presented, reflect a huge jump in 2021 after the previous slowdown due to Covid-19, with 172 million euros in turnover (41% more in one year), 27.9 million net profit (98 % higher) and 93 clinics (63 in Spain).
What has the entry of the Chinese shareholder in Bavaria meant?
Above all, see the world globally. The idea is to make a world group. It allows us to connect with the scientific community in Asia and the US. It also allows us to learn about the know-how of Chinese companies.
What will this investor contribute in the future?
Do things we can't do on a smaller scale and share knowledge globally. And be resilient. If we turn 30 this year, it will allow us to be able to serve another 30 years. Although the management system we have is very independent. We have a pooling of knowledge in ophthalmology and in the practice of management.
What are the plans for the company?
To be leaders in Europe. We seek to operate with the best quality standards for as many people as possible. Also be a platform for the development of people and contribute to society to the extent that we can. And, finally, have sustainable and responsible profits.
Are they already leaders in Europe?
We are. There are two relevant groups, one in the UK called Optical Express and another in Germany called Euroyes. We are in Spain, Germany, Italy and Austria and we are leaders in Spain and Germany. We are not, but just barely, in Italy.
How much does international business bring?
40%.
And what is the goal?
That contributes more than the national business. By population logic, international business should be greater.
Are you going to bet on new openings?
Yes. In 30 years we have never stopped opening clinics.
How many do you plan to open this year?
This year we will close with 100 clinics, in around 80 cities. We usually open between five and ten a year, it is our speed to do things well. In the construction phase we have in Marbella, in Bonn, Colonia… Half or more than half will be outside of Spain. We will open others in the countries where we are already, but we are already looking at some other country.
What other countries are studying to expand?
We bet on Europe. We are studying entering Portugal, where we are already in the work phase, and France and the United Kingdom, which are also interesting countries. In Portugal we will open maybe in a year. There is no specific year for France and the United Kingdom, but we do see it in the future, in an average period of three years.
Is it a request from the majority shareholder?
It is a coincident position with Aier. When he joined the shareholding, we were already in Germany and Italy. When we were born, we already said that this model could be exported to Europe. It cost a lot and the first time we did it, in 2003, we failed. Then we tried it in 2008 and we succeeded.
How do you want to grow? Will they also make purchases from companies in some markets?
Yes. If it is a strategic purchase that gives us knowledge of the market and time, yes, we will do it. It will depend on the country and if the opportunity is good. But we do not enter only buying. In Germany we acquired a group of clinics, but we have opened another 20 there. The great expansion is due to organic growth. Of the current clinics, only 12 are shopping.
Will they participate in large purchase operations in the sector?
No. We like to go slowly but surely.
With all these openings, what will be the billing objective in the medium term?
If in 30 years we are visualizing the 200 million euros of income, in the next decade we will reach 300 million.
How has the pandemic affected your activity? Because they have recovered quickly, exceeding the figures of 2019.
It is already 35% higher than in 2019. Some external factors have driven us, for example, since there was a break in 2020, there has been a tail effect or wait that moved to 2021. In addition, there is a cultural movement by which people spend more and more on self-care. And then the mask and the glasses, which we also believe that many people have seen their lenses pawned. It has also been due to internal factors, thanks to the openings that have gone well. We have come out with sacrifice. We had to close clinics and only give emergency activity. And then living with the virus with security measures, working more to do the same. It is an increase in costs.
Have they had to transfer it to a price increase?
More than because of the pandemic, it is because of inflation, both in medical materials and in energy. There has been inflation in materials, manufacturing, due to cuts in the supply chain… Last year we modified the rates a little and the rest we have absorbed against the unit margin.
The Chinese shareholder controls almost 80% of the capital and the founders another 10%. Do they consider that Bavaria stops trading?
We like to be quoted. It gives us transparency, it gives us visibility and opportunities to invite more shareholders.
Will the founding team continue?
Our intention is to remain as shareholders and as managers as long as life allows us.