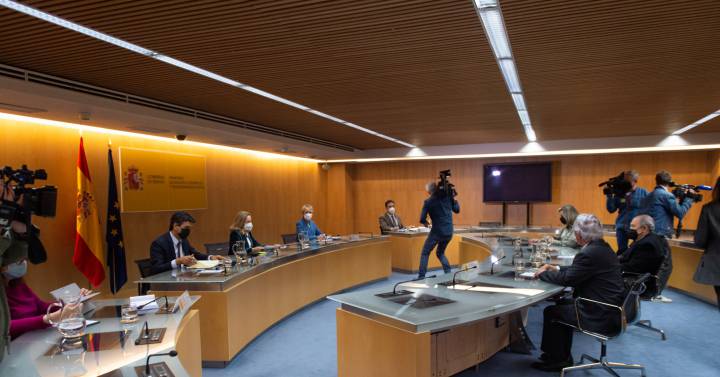 The banking associations have just signed, in the presence of the First Vice President and Minister of Economic Affairs and Digital Transformation, Nadia Calviño, and the Governor of the Bank of Spain, Pablo Hernández de Cos, the update of the 'Strategic Protocol to Reinforce the Commitment Social and Sustainable Banking' signed on July 23, 2021, to include new measures to guarantee personalized attention to citizens, especially the elderly, so that they have banking services adapted to their needs, as explained by the Government in a statement.
The protocol is the response of the entities to the requests of older clients, headed by Carlos San Juan, who started a campaign a few weeks ago under the slogan "I am older, not an idiot", and whose claims have received more than 600,000 firms. The objective is that these measures signed today guarantee that citizens receive personal, humane and quality treatment in their relations with banks and savings banks.
Measures
Extension of face-to-face service hours that cover at least 9:00 a.m. to 2:00 p.m. for cashier services. This service will be provided at the window or at the cashier.
Preferential treatment for the elderly in branches, with priority in cases of high influx of public in offices.
Mandatory specific training for sales network personnel on the needs of this group.
Preferential telephone service at no additional cost or direct, through a personal interlocutor.
Minimum telephone service hours between 9:00 a.m. and 6:00 p.m. for clients to whom services are provided without an office.
Guarantee the adaptability, accessibility and simplicity of the channels based on their use, making versions with simplified language and views available to these customers.
Repair of ATMs out of service to ensure the supply of cash in a maximum of 2 business days and information on the nearest alternative ATM.
Offering customers financial education, digital and fraud prevention actions through the most appropriate channel.
Entities will communicate to the group of older customers the measures they adopt to make them aware of the improvements made available to them
Expansion of the purpose of the Financial Inclusion Observatory to adequately monitor the measures adopted by entities for the personalized provision of financial services.