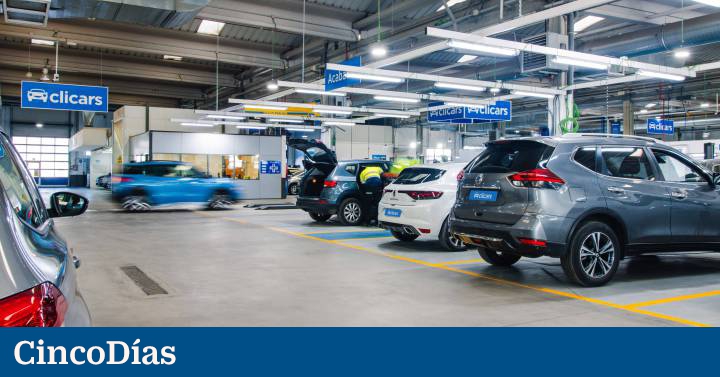 Clicars, the Spanish second-hand car online sales company, closed the first half with a turnover of 193 million, 94% more than the same period of the previous year. Its sales for the last quarter, corresponding to the company's third fiscal quarter, reached 86.7 million, 50% more compared to the months of April, May and June 2021.
This strong growth occurred in a context in which the automobile industry continues to be marked by a shortage of chips, which is causing 2.2 second-hand vehicles to be sold for each new registration in the market, according to data from the Faconauto employers. and Ganvam. Cliclar, which was born in 2016, has reached a cumulative turnover of 620 million.
Aramis group, the company listed in Paris of which Clicars has been a part since 2017 after a strategic and capital alliance, had a turnover of 458 million in its third quarter (ended June 30), 20.1% more.
"One of our main objectives for this year is to be the option that ensures the supply of cars at competitive prices for Spaniards," said José Carlos de Valle, CEO of Clicars. The company clarified that, at this time of uncertainty within the automotive sector, and where the sale of second-hand vehicles accumulates a fall of 4.5% in the first half of the year in Spain, according to the aforementioned employers, Clicars closed June with a market share of 6.6% in the 0-5 year old car segment.
During the first half of 2022, the company doubled the purchase of cars from individuals to maintain its stock, thanks to a project of appraisal and purchase within 24 hours at the door of customers' homes in several Spanish cities such as Madrid, Barcelona, ​​Valencia, Seville, Alicante and A Coruña. Clicars highlighted that its current stock is more than 2,500 cars with a delivery time of one day at the customer's house throughout the peninsula and a three-year guarantee. The company boasts some services such as the approval and formalization of financing in less than an hour.
According to Clicars, user interest in sustainable mobility has grown. Thus, searches for ECO vehicles rose 84% since the beginning of the year, with interest in electric cars soaring in March by 124% compared to February.