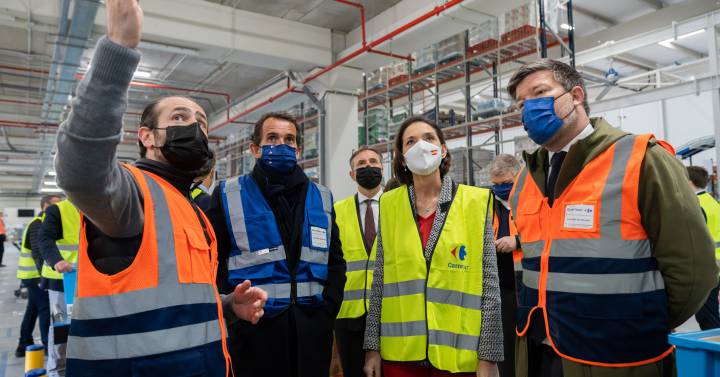 Carrefour has inaugurated this Wednesday its first platform dedicated exclusively to serving online food orders, which, located in the Madrid town of Getafe, has an area of ​​10,000 square meters and offers a maximum capacity of up to 4,000 daily shipments.
The president and CEO of the Carrefour group, Alexandre Bompard, officially opened the event in the presence of the Minister for Industry, Commerce and Tourism, Reyes Maroto. "The opening of the Getafe platform illustrates the great progress of our digital roadmap in Spain. E-commerce is attracting more and more customers and is now one of the most important growth factors, together with the digitization of our services financial or media retail. In Spain, as in the rest of the Group, we will continue to accelerate our investments to innovate for our customers, create new jobs and transform Carrefour into a 'Digital Retail Company'", Bompard highlighted.
The facility, operated by Salvesen Logística, has the latest developments in e-commerce operating systems with functionalities that range from order planning to offer management, the application of intelligent packaging algorithms to optimize the use of space in the vehicle or the dynamic management of last-mile routes that improve the efficiency of delivery trucks, among other applications.
This new point, which will make it possible to attend to online food orders from the Community of Madrid and surroundings, with extensive delivery hours from seven in the morning to ten at night, has an assortment of almost 17,000 references and also includes a workshop area to carefully and personalized prepare fresh butcher, fishmonger and bakery products, just a few minutes before the orders go to the customers' homes, thus guaranteeing, according to the firm, their maximum freshness and quality.
Increased capacity for your online channel
Carrefour has 10 spaces located in hypermarkets throughout Spain that function as a hybrid model, dedicated entirely to managing online orders. They offer between 4,000 and 8,000 high-rotation products dedicated exclusively to serving online orders.
For the rest of the items demanded by customers, the chain uses the assortment of the store itself where these warehouses are housed. The company also has another 60 stores where online food orders are prepared, which are characterized by being able to serve up to 1,000 daily orders and offer great operational efficiency.