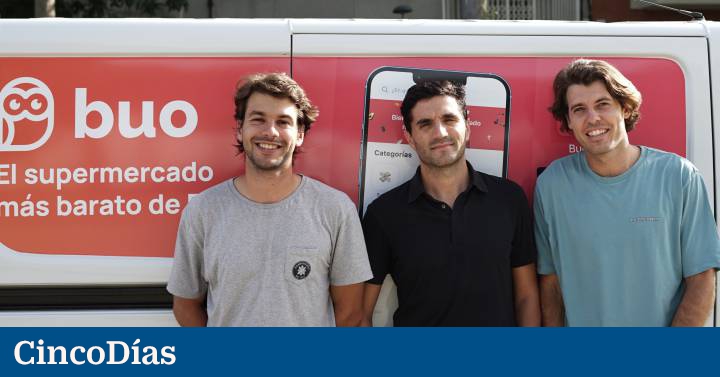 Buo, the Spanish online supermarket where you buy in groups, has raised two million euros to continue expanding its new way of understanding the retail to the main cities of Spain and grow in number of users. The financing round is led by the Mangrove Capital Partners fund (with operations such as Skype or Wallapop, among others) and investors such as Didac Lee, Óscar Pierre (founder of Glovo), Inés Urés or Roger Solé.
The startup currently operates in the Barcelona metropolitan area, with a team of 20 people, and plans to start providing services in Madrid next month. Buo has also recently closed a long-term operational agreement with Glovo, in which it will not only provide them with logistical synergies, but also strategic knowledge in terms of expansion and markets that will allow them to grow faster as a company, as they explain.
The company, founded in 2021 by Ruben Vilar, Carlos Costa and Borja Solé, is committed to group purchases. Its users can join purchasing groups "with what is paid less thanks to the collective discounts that are achieved by increasing the group's bargaining power. "Our clients can acquire through their apps all kinds of cleaning, household, hygiene or baby items, among others, and achieve final prices on average 30% cheaper", they say.
Once the purchase is complete, customers can pick up their orders one or two days later at one of Buo's collection points, "which are at most five minutes from their homes," they add from the startup, which has more of 50 collection points in Barcelona. The company has a support team seven days a week to solve any incident.
The founders of Buo defend that their proposal responds to the rise in prices and they believe that with the power of the collective, prices can be greatly reduced. "Our goal is to pay producers more and better while consumers pay less for the products they need. That is why we eliminated all unnecessary intermediaries from the production chain and eliminated the main frictions that online shopping had until now: higher prices, shipping costs and minimum orders", says Solé.
According to Yannick Oswald, a partner at Mangrove, "the social commerce is taking off worldwide" and highlights that with Buo they hope to build "the social commerce platform for Europe". In his opinion, "it is the best time for a company like this, since it offers a clear value proposition in times inflation dominates our lives.
The startup clarifies on its website that to carry out these group purchases, the user does not need to know the other members of the group, nor is it necessary to collect the products in the same place as them. They also specify that the groups must be filled in a maximum period of 24 hours.