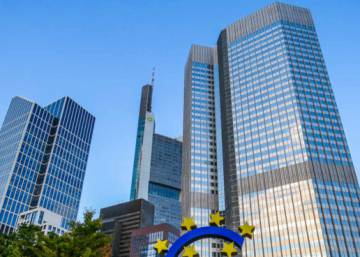 The European Commission and the European Central Bank (ECB) have warned this Wednesday of the "signs" that point to a deterioration in quality of the assets of Spanish financial institutions and a "probable" worsening of the same throughout 2022 that requires "vigilance narrow".
Both institutions point out in the report they have prepared with the support from the European bailout fund (ESM) on the status of the system Spanish financial institution that the increase in restructured and refinanced loans, especially the credits guaranteed by the State, justify a greater monitoring for its potential impact.
"Although no significant cliff effect has been seen after the Withdrawal of most of the loan defaults, there are some signs of credit impairment and it is likely that there will be a worsening asset quality in 2022, "the document says.
Brussels and the ECB acknowledge that the loan moratorium "has eased the impact of the pandemic on banks and borrowers ", in particular the most vulnerable, but once retired, performance deterioration of loans has been higher in Spain than in the EU.
According to data from the European Banking Authority (EBA), the rate of NPLs on loans with expired default are stood at 6.4% at the end of June, compared to 4.7% registered in the block assembly.
Despite this and some "vulnerabilities and uncertainties", the The main message of the Community Executive and the ECB is that the sector Spanish banking system has maintained its "resilience" during the pandemic.
The profitability of financial institutions rebounded in the first half of the year thanks to reduced supplies, while sector capitalization "improved supported by retained earnings and regulatory provisions ".
Even so, the report highlights that Spanish banks continue to have some of the lowest capital ratios in the EU, which can be explained also due to the "less frequent" use of internal models. "This justifies close monitoring considering probable deterioration in quality
of assets once the measures to support borrowers and others are completely withdrawn ", reiterate the two institutions.
The European Commission and the ECB have produced this report after maintaining in October virtual meetings with the Spanish authorities in the framework of the post-2012 bank bailout supervision program.
Both institutions will continue to supervise Spanish banks until that Spain has repaid at least 75% of the loan of 41,300 million you received then. To date, the State has returned 17.6 billion of euros to the European Stability Mechanism (ESM), 43% of the total.
.