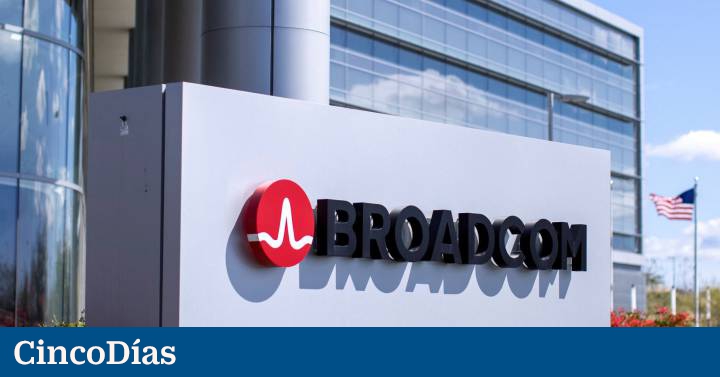 The chip maker American Broadcom is in talks to buy cloud service provider VMware, according to knowledgeable sources cited by New York Times, Bloomberg and Reuters. Talks between the two companies are ongoing, and a deal doesn't seem imminent. Some of these media ensure that a price has not yet been established to close the operation, but the Financial Times points out that the transaction could reach 50,000 million dollars (almost 47,000 million euros).
With this operation, Broadcom, which manufactures different chips for mobile phones and telecommunications networks, would seek to diversify its businesses. Buying VMware would give it access to the data center business, where the latter's technology is a mainstay for cloud customers. Broadcom already acquired CA Techologies in 2018 for 18.9 billion dollars to expand in the software market.e, and Symantec's enterprise security division for $10.7 billion in 2019.
With all these acquisitions, Broadcom intends to strengthen itself in the software business, which is more profitable than the semiconductor industry. VMware has a strong position in infrastructure software.
The operation, if it finally materializes, would generate significant profits for the largest shareholder of VMware, the billionaire Michael Dell. The founder of computer maker Dell acquired VMware as part of a 2016 deal to acquire EMC from venture capital firm Silver Lake for $67 billion. One of the largest deal in the history of the tech industry and was largely financed using VMware as collateral for a loan of more than $50 billion.
Following the acquisition, Dell retained a roughly 19% stake in VMware and managed it separately from Dell Technologies, its computer company. Last april 2021, Dell Technologies announced that it was spinning off VMware, of which it controlled almost 81%, to reduce its debt of 41,620 million dollars, much of it assumed with the acquisition of EMC. With this transaction, VMware would distribute a cash dividend of between 11,500 and 12,000 million dollars to all its shareholders, including Dell, who would receive between 9,300 and 9,700 million dollars.
Michael Dell, who chairs VMware, owns just under 40% of the company's outstanding shares, a stake that stood at about $15 billion as of Friday's close, according to data from Sentieo. Venture capital Silver Lake, which is also an investor in Broadcom, is VMware's second largest shareholder, with around 10%.
Buying VMware would transform Broadcom into a diversified technology company, ranging from chips to cloud computing services. VMware has long been considered one of the leading companies in the cloud computing industry. Its services are used by large corporations to manage private and public cloud networks as well as data centers. But, as the FT reports, the drop in the company's share price in recent times has caused greater interest in its acquisition.
VMware closed its trading Friday at $95.71, with a market capitalization of $40 billion, nearly half what it was worth in 2019 when it peaked and down 20% from earlier this year.
Broadcom CEO, Malaysian-American billionaire Hock Tan, has been prolific in acquisitions since taking the helm of what was a small chipmaker in 2006. The purchases have allowed him to create a behemoth valued at more than $200 billion. of dollars. Broadcom attempted to acquire chipmaker Qualcomm for $117 billion. but it was finally vetoed in 2018 by the then US president, Donald Trump, for national security reasons and by the fear that China would prevail in mobile communications.
Bernstein analysts have assured in a note to clients that "an acquisition of VMware would nearly triple the size of Broadcom's software segment."
Potential merger between San Jose-based Broadcom and VMware underscores active market for big tech deals despite valuations falling sharply this year amid fears over inflation and rising interest rates by the Federal Reserve.
Elliott Investment and Vista Equity bought Citrix last January for more than 14,800 millionyes This same fund, together with Brookfield, also bought Nielsen for 14,487 million, including the debt. Microsoft agreed last January to buy Activision Blizzard for $75 billion. and the venture capital firm Thoma Bravo has agreed the acquisitions of Anaplan Y SailPoint for 10.7 billion dollars and 6.9 billion, respectively, Y Permira and Advent International have completed the acquisition of the computer security company McAfee, announced in November 2021, for an amount of 14,000 million dollars.